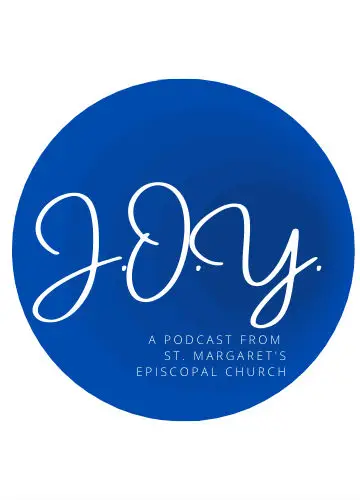 J.O.Y.
A podcast from St. Margaret's Episcopal Church
With the Rev. Mary Vano and a new guest host for each episode, we discuss topics of theology, spirituality, and faithful living. It's a dynamic conversation between Jesus, Others, and You. Listeners are invited to send comments, ask questions, nominate guest hosts, and suggest topics. When you join in, our joy is complete!

Click here to send in your comments and questions.
---
The Revs. Austin Rios and Mary Vano
|
Monday August 3rd 2020
Feeling stuck at home? In this podcast, Mary connects with her friend Austin Rios, the rector of St. Paul's Within the Walls in Rome, Italy. We're talking about pilgrimage as part of the spiritual journey, and how we can make such a journey even while we stay close to home.
---