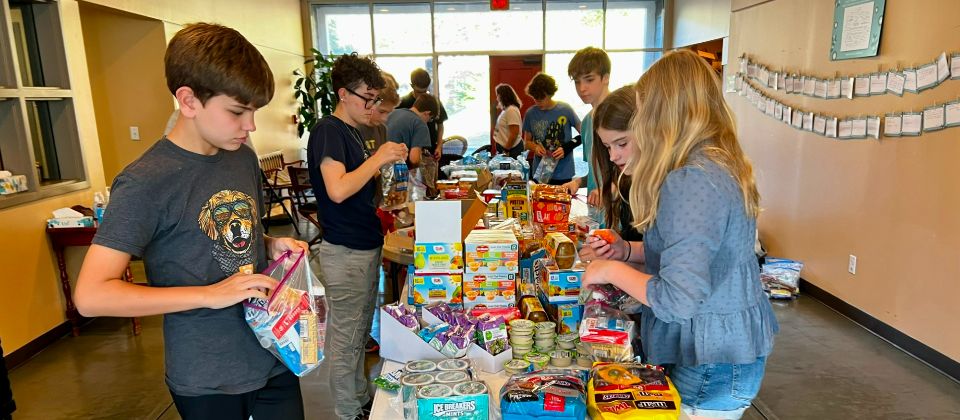 Youth Collab Finds Calm in an Anxious World
by The Rev. Michaelene Miller
on November 1, 2022
The St. Margaret's middle and high school youth have been busy building a collaborative community; connecting with youth from other Episcopal churches in the area especially St. Michael's, Good Shepherd, and Trinity Cathedral.

The Episcopal Youth Collab Community (EYC) just wrapped up its Fall Series: Finding Calm in an Anxious World, where youth had space to reflect upon the various storms in their life while they learned about mental health and various tools for finding calm. Between a fun get-to-know-you-game and after-dinner-compline-prayers, guest speakers would join the youth to share their mental health wisdom on topics such as stories of storms and mental health struggles in Holy Scripture, yoga, meditation, Therapy 101: What is it?, praying in color, and grace. The youth also reached out to others by assembling "hope sacks" for the library to share with neighbors in need. The EYC series will rotate meeting at the different participating churches, which will help youth get to know the different Episcopal places of worship and see how expansive and full the Episcopal community is in the Little Rock area. Keep watch for more details to come, but the Episcopal Youth Collab will likely meet next at Trinity Cathedral for an Epiphany Series on Sunday afternoons throughout January and February.
Future Diocesan and Convocation Youth Events:
Monday, Nov 7th at 7pm: Holy Conversation Bishop Search Listening Session with Youth at Trinity Cathedral Sunday,
Dec 11th: Snow Ball
Thursday, Dec 22nd: St. Francis Christmas Baskets
January - February: Next EYC series during the season after Epiphany, more info to come!
February (TBD): NEW 6th - 8th graders overnight retreat
March 10-12: Happening for 9th-12th graders
April 21-23: Spring Youth Event at Camp Mitchell
July 4-8: Episcopal Youth Event in Baltimore, MD
back