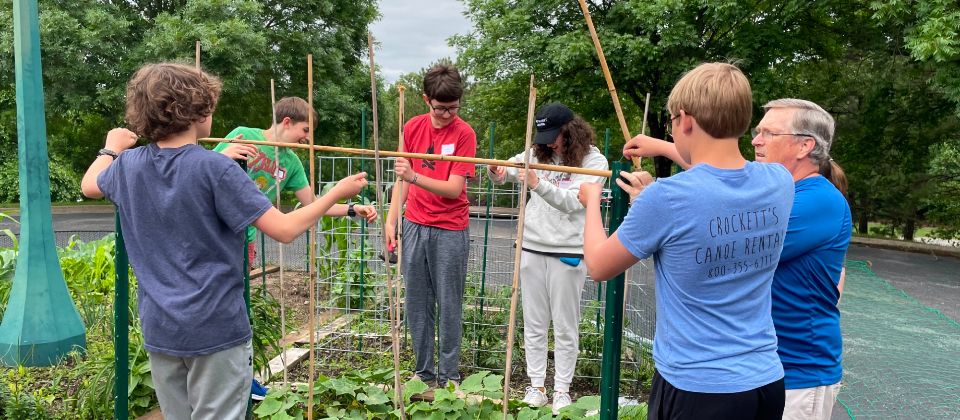 "What if?" Youth Ministry
by The Rev. Mary Vano
on June 1, 2022
In the middle of 2021, just as we were all wondering how to emerge from the pandemic, a new idea about youth ministry began to circulate: what if the Episcopal churches in Little Rock could collaborate in a combined youth ministry? What if Episcopal youth could create a community that bridges parish lines? What if our parishes could share resources to provide a dynamic, life-giving, and loving experience for young people growing in their faith?
To test these ideas, we invited parents, youth, and parish leaders to gather at the Cathedral for a meeting in March. We began to imagine how a collaborative ministry could better serve our youth and initiate exciting shared ministry opportunities between our parishes. On that day, members of St. Margaret's, Trinity, St. Michael's, Good Shepherd, and St. Mark's were present.
Then in May, we held a "May-Mester" – four consecutive Sundays for youth to enjoy activities together and get to know one another. The theme was "Taste and see that the Lord is good," and it began with a picnic and games at Pinnacle, and then continued at St. Margaret's for more games, walking the labyrinth, and working in the Good News Garden. Our own youth at St. Margaret's mixed with youth from all over Little Rock, as all the kids enjoyed getting to know one another. On the last Sunday of the experiment, youth were invited to walk our campus, taking pictures of where they could see God. Here are some of the ways that they saw God in the world around them:

All the "what ifs" that we began with seem to be developing into an idea with real potential for shared community, formation, and leadership. Over the summer, we'll be doing more discerning work as plans are developed for youth programming in the fall. I'm excited to see where this new collaboration will lead us!
back