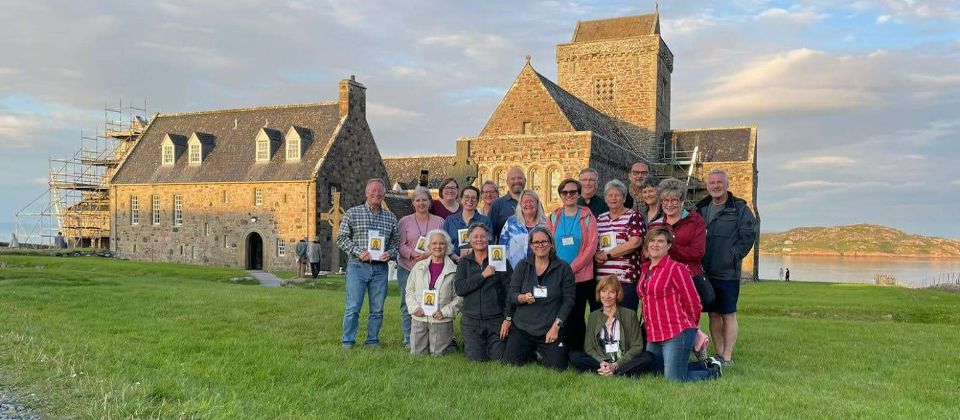 St. Margaret's Goes to Scotland
by Mark Magie
on September 1, 2022
Scroll to the bottom for a link to our complete photo album, and for a link to a survey about a future pilgrimage.
A pilgrimage
is a journey to a sacred place
, and for those recently on St. Margaret's Scotland Pilgrimage, opportunities presented themselves in the beauty of the countryside, through gracious hosts, extraordinary architecture, peacefulness of a small island, time for reflection and self-examination, as well walking in the footsteps of Queen Margaret of Scotland, whose name we memorialize at St. Margaret's Episcopal Church in Little Rock.
St. Margaret, who was queen of Scotland from 1503 until 1513, was one of the most beloved royals Scotland has ever produced. It is said Margaret literally gave away the King's gold, personally fed and washed some of the lowliest peasants, and gave her own fine clothes to put on the backs of starving beggars. She taught religion to orphans, and fed 300 peasants in the royal hall at Dunfermline while she herself fasted. She invited three Benedictine monks from Canterbury to found a priory in Dunfermline and established a ferry across the Forth of Firth to take pilgrims there. Margaret's son, King David I, built a chapel named in honor of his mother, which is Edinburgh's oldest building.
"St. Margaret is truly the pearl of Scotland," said Annette Murray. "What a privilege to travel with this group of pilgrims led by Mary Vano. And to leave my day-to-day living in the United States and to inhale the culture and landscape of Scotland will always be memorable to me," she added.
"I am thankful for so many aspects of our wonderful Scotland Pilgrimage with a great group of fellow St. Margaret's pilgrims. I was most inspired by the impressive faithfulness of St. Margaret and how she put her faith into practice daily to help so many throughout her life … a real example for all to follow. A special thanks to Mary and Stephen Vano, and our guide, Andy Plews, for creating such a special experience," said Dwight Cowan. "Andy fit in well with our group and was a wonderful resource for Scottish and European history and culture, always animated and fun. He will be remembered for introducing our group to 'wee hills' and 'hairy coos' (cows)," said Mark Magie.


The itinerary included a Loch Lomond cruise on the way to the first night in Oban, a bus ride and two ferries to the west side of Scotland to the island of Iona for three nights, back to Edinburgh for four nights visiting Stirling along the way, and day trips to the Holy Island of Lindisfarne, the Firth of Forth, and Dunfermline. "The beautiful landscape of Scotland is something I will always remember. It was a perfect backdrop for feeling spiritually connected and recognizing God in our natural world," said Lisa Yocum.
The Island of Iona is one of the oldest Christian religious centers in Europe, and its abbey was founded in 563
by St. Columba. He wanted the monastery to be an image of the "heavenly city of Jerusalem" and the pinnacle of Christian virtues.
The island is home to the ruins of an ancient nunnery, a medieval abbey, and the burial ground of 48 Scottish kings.
Centuries later, Iona is regarded as a "thin place" in Irish Celtic lore where the veil between earth and Heaven is porous. Those on the pilgrimage could feel it. "My favorite spot on our pilgrimage was the Island of Iona. We were taken back to the late 500s when St. Columba built the first Christian community in Scotland. It was here that I received peace and clarity from God about two decisions I would make when I returned home," noted Debby Walter.
"I had never heard the term 'thin place,' and now equate this as both physical places and mental places where we can have a closer relationship with our faith. The circle in the Celtic crosses found on Iona are there – wait for it – to support the arms of the cross. Yup, no deep meaning. The circle is there for structural support. I now see us as the circle to support the church community," said Kaye McKinzie. "I can see why the Island of Iona was called a thin place," Murray added.
"As I try to tell people about the trip, the thing I most often find myself talking about is my time on Iona. The most significant part – the profound sense of peace and spiritual presence on the island is also the thing that is hardest to describe. We visited a number of beautiful holy places, and yet simply walking a path through open fields surrounded only by grass, rocks, sea and sky (oh, and sheep), affected me more deeply than anything else on the trip. I would gladly return and spend a much longer time there," said Melodie Rayburn.
"I felt connected to nature as we toured beautiful countryside, spent time on Iona, took a six-mile hike, and I rediscovered my love of rock climbing," added Catherine Crisp.
"Scotland is a truly amazing country: magical, mystical, spiritual, and serene all at the same time. My favorite place was definitely the Isle of Iona. Imagine the majesty of Camp Mitchell and Petit Jean Mountain multiplied by 50, with a lot less humidity and a massive amount of Lord of the Rings vibes. That's the Isle of Iona! Getting to learn more about the birthplace of Christianity in Scotland by way of St. Columba was enlightening, and worshiping in the sacred halls of Iona Abbey itself made me feel connected to hundreds of years of Celtic Christian tradition," said Heid Sohl.
"The time spent on the Isle of Iona was especially inspiring. In wandering the ancient ruins and landscapes, and spending time in the quietness of nature, I experienced a connection to God in the living world around me," said Tracy Roberts.
A day trip to Lindisfarne Priory on the Holy Island off the west coast of Scotland, was an experience,
navigating and timing the tides so that it was safe for a bus to travel without getting stranded. "Time stood still for me in the ruins of Lindisfarne Priory. Built in the 12th century, the elegant stone walls retain the prayers and spirits of the monks who lived there. That feeling was absolutely tangible," said Cindy Fribourgh. In 635, St. Aidan came from Iona to establish a monastery on the Holy Island. It is from here the Christian message flourished throughout the world.
For many on the pilgrimage, connecting with others was special. "If I had to choose one word to summarize my experience of our pilgrimage, it would be 'connection.' Through our travels, I experienced a sense of connectedness to my ancestral heritage and my Christian heritage. As we visited and worshiped in unfamiliar places, there was a continuity and familiarity of liturgy within our Anglican Communion that I found comforting and meaningful. I brought home friendships, love, joy, gratitude, and renewal that I will continue to reflect on and treasure," added Roberts.

"Fellowship and prayers shared, friendships and faith deepened. These are my takeaways from our pilgrimage to Scotland. And of course, hairy coos!" said Mary Willmuth. "When I reflect on my experiences with the pilgrimage to Scotland, a sense of connection consistently rises to the top. I felt connected to my fellow pilgrims (many of whom I'd never met), to other Christians throughout the world, to other Episcopalians in Scotland, and to the people of Scotland," added Crisp.
"My biggest takeaway from the trip was the strengthening of relationships with other St. Margaret pilgrims. I'm hoping Mary will be inspired to lead us on another rewarding journey," said Lisa Yocum.
"The sacred places were exquisite, the weather was great, the people were friendly, and
the food was phenomenal! Walking in the same places as thousands of others have done for centuries was breathtaking. The countryside was lush, green and beautiful. Andy, our guide, and so many other locals were fun, interesting and pleasant to us as tourists. Being a 'foodie,' I was blown away by the seafood and other delicacies we enjoyed; even simple things like lunch at the Craignure Inn when we ditched the Tobermory Distillery tour, and the meal at the Spirit of Scotland show on the final night. So much fun, culture and food, and so many friendships made and strengthened," said Leah Dalton.
The pilgrimage was from July 25 to Aug. 3, 2022. Pilgrims included Stephen and Mary Vano, Dwight and Patty Cowan, Heidi Sohl, Mark Magie and Annette Murray, Catherine Crisp and Kaye McKinzie, Cindy Fribourgh, Tracy Roberts, Laura McKinney, Debby Walter, Melodie Rayburn, Leah Dalton, Lisa Yocum, Mary Willmuth, Jeff and Cheryl Thomas.

View our photo album here.
Interested in going on a future pilgrimage? Take the survey here.
back