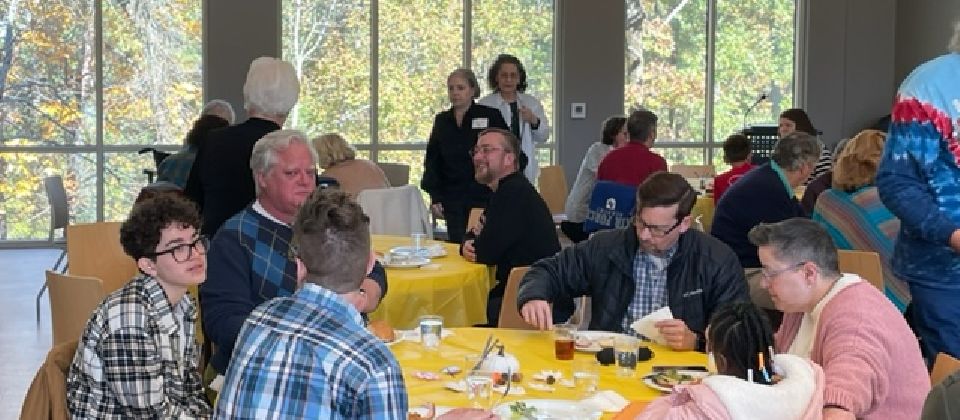 St. Margaret's Day
by Adam Sullivan
on November 29, 2022
At St. Margaret's Episcopal Church in west Little Rock, we celebrate the feast of St. Margaret with enthusiasm. But it seemed this year, after the separation of the previous two and half years, the energy was higher and the desire deeper to make this particular feast even more special. As the Thanksgiving holiday neared, the Mission and Ministry Committee of St. Margaret's realized that we have much to be thankful for in our small but growing parish, and
we wanted to emphasize our gratitude for this November 13th celebration of our namesake saint.
The church provided turkey, ham, and beverages, and the parishioners of St. Margaret's graciously provided sides and desserts. Traditional and fresh takes on Thanksgiving and 'church-potluck' fare overflowed our tables, and there was plenty for everyone—for both the Sunday regular and the sometime visitor. We made great use of our facilities, spreading the seating and food throughout the Welcome Center and Parish Hall. Our facilities and the people who fill it: two blessings for which we are extremely grateful.
In traditional Thanksgiving fashion, we asked those who gathered around our tables to share something for which they were thankful. On fall leaf decorations scattered at each table, we asked attendees to write something they were thankful for. Thanks were given for faithful pets, for loving families and loyal friends, for the beauty of each sunrise and the blessing of another day of life.
But the most common point of thanks? So many of the notes shared thanked God for our church, St. Margaret's, itself: for our church's singers and musicians who lead our worship services, for our staff and administrators who lead us in being the light of Christ, for the love and inclusion shown by each member of our church family and by our church as a whole. With this year's feast and with the separation we have all recently endured, we seem to share a thankfulness for this family we have here— created by God, gathered for Jesus, and connected by the Spirit. Our celebration was a blessing itself, a celebration of which our 'pearl' St. Margaret would be proud.
back