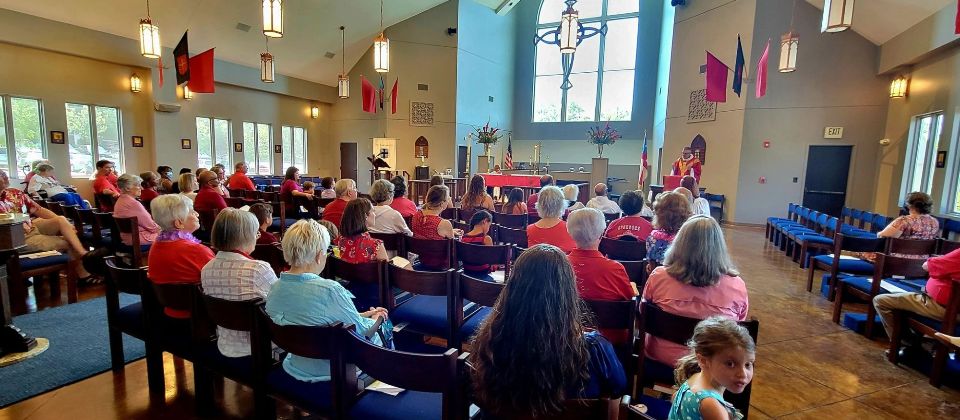 Pentecost Picnic
by Elizabeth Fortune
on June 29, 2022
The Holy Spirit was certainly among us during our Pentecost picnic this year!
Church members gathered around the Good News Garden and in tents around the lower parking lot for the three Fs: food, fun, and fellowship. A dedicated group of volunteers fired up the grills on June 5th and fed us with hot dogs, hamburgers, and all the fixings. Church members contributed a delicious array of side dishes to round out our meal and fill our bellies. The forecast that day called for sunny with a chance of sprinkles, thanks to the arrival of the Loblolly ice cream truck! The popular Little Rock ice
creamery pulled into the parking lot in their cute ice cream truck, and people were lined up ready to get their scoop on when the truck opened for business! Flat Maggie even made her annual summer debut at the picnic.

The Vano family was on vacation in Hawaii, celebrating Mary's parents 50th Anniversary. John Bullen organized an extra surprise, sending pictures of parishioners with leis and a sign to greet the family all the way from Little Rock to the Big Island.
The picnic was a great way to safely gather in person after so much time away from the community. For some, the combined church service and picnic was their first return to in-person service and events since 2020. Seeing everyone in their Pentecost red and being together was a great reminder of what a special community we have at St. Margaret's.


back