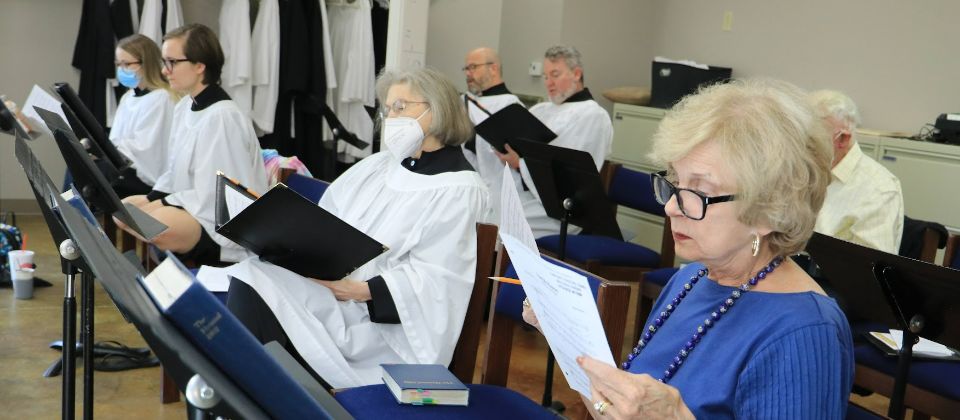 New Musical Leadership
by The Rev. Mary Vano
on January 4, 2023
Psalm 96 exhorts us to "sing to the Lord a new song," and at St. Margaret's, we are so grateful for the leaders who help us do that!
As we begin a new year, you will notice some changes to our musical leadership: As John Alec Briggs, our Director of Music Ministries since 2014, approaches retirement, he will continue to offer his excellent skills on the organ at the 11:00 service, and will mentor and support Elizabeth Haskett as she begins to take over the full responsibilities of our Director of Music for both 9:00 and 11:00 services. This will be a transition that will take place over months. Beginning now, you'll see that Elizabeth will be both our pianist and cantor for the 9:00 service.
Tom and Roberta Monson, members of the choir, see this
change as part of the growth and maturation process of this ministry. Tom wrote, "John has brought a sense of musical community commitment to our parish. He has shown a remarkable ability to communicate and to guide the choir through last-minute changes of schedule. We have been fortunate to have John share his professional training and mentoring skills with us, and to demonstrate the importance of life-long pursuit of education."
Mary Berry, another faithful member of the choir says, "This would seem to be an ideal solution; to keep John on board and to elevate Elizabeth. I cannot imagine two more worthy musicians - Kudos all around!"
I am so grateful to John Alec for over 8 years of leadership at St. Margaret's. During these years he helped to design and create an ideal place for choir, piano, and organ in our sanctuary. He has nurtured our choir and creatively developed musical settings for the 9:00 service. His skills on organ and piano have been a true gift to us as we worship, and so I'm very glad that we will continue to benefit from his offerings as an instrumentalist. At his core, John Alec is a teacher, and perhaps the greatest gift of this new arrangement is that he will mentor Elizabeth as the next generation of gifted musical leadership for the church.

Finally, I'm looking forward to working with Elizabeth Haskett as she embraces the opportunity to learn new skills, bringing her own creativity and compassionate heart to the role. Elizabeth is a delight to work with, and I believe we will enjoy and appreciate her offerings.

Please remember that we can't "sing to the Lord a new song" without you! If you like to sing or play an instrument, we'd love to have your help! Even if you simply want to share a list of your favorite hymns with Elizabeth, that would be helpful and greatly appreciated.
back