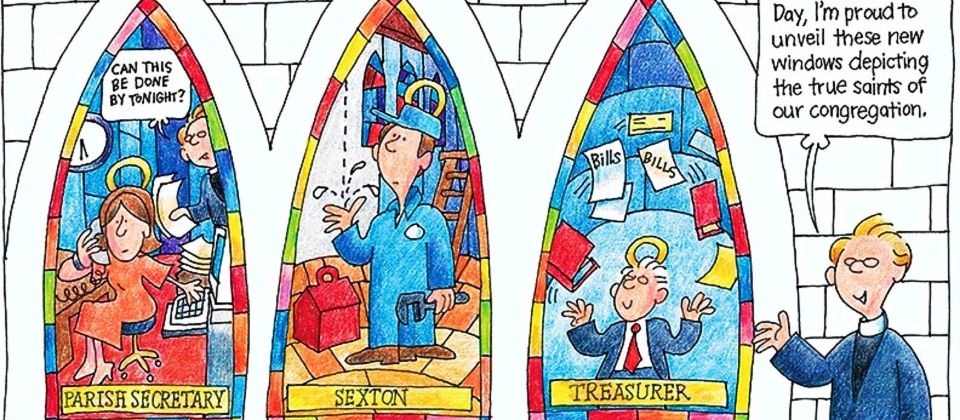 New Leadership for a New Season
by The Rev. Mary Vano
on November 2, 2021
Having served as a rector for more than ten years now, I know this much to be true: with a faithful vision for thriving ministry, we always have more need for staff than we can afford. This summer, St. Margaret's bid farewell to two long-term and beloved staff members: Richard McKay, our Youth Minister, and Ann Berg, our Bookkeeper. The change prompted me to rethink our staffing, and knowing the limitations of our budget, I decided to do something bold. I invited a handful of our church members, people with specific skills and a heart for ministry, to accept major jobs as volunteers. The result is that we have 5 new staff members to add to the ongoing 7, making up the largest leadership team that St. Margaret's has had in its history. This change has brought new life and energy to the work of the church. We're tapping into creative reserves and dedicated talents that are raising the bar for our ministry together. Instead of a few people spread thin, there are more of us who can focus deeply within our areas of strength. And the free gift of generous work means that we're closer than ever to being able to include a salary for a full-time Associate Rector in our budget... possibly as soon as next year! If you're wondering how our church staff can serve you (or how you can get involved to support the church's work), read here about what everyone does:
New Staff:
Kris Alexander
is our
Director of Children's Ministries
. Kris has been making home visits to deliver children's books to families, and is busy planning a return to Sunday school in 2022.
Susan Hiller
is our
Lay Minister for Pastoral Care
. Susan leads our Neighborhood Shepherds and tracks pastoral care needs in the parish to ensure that we respond with the love of Christ for all those who experience a loss or are having health or other challenges.
Amy House
has stepped in as our
Minister for Technology
. In an age in which we are relying more and more on technology - not only for operations, but also for ministry - Amy is helping to make sure that we have what we need and that it all works as it should!
Missy Tinnermon
is our new
Minister for Connection and Community
. She is using her talents to organize parish life events that build our community, and match members with meaningful volunteer roles that support the church.
Alf Williams
has taken charge of our buildings and grounds in the role of
Facilities Manager
. In just a couple of months he has found things to repair that we didn't know were broken, and he's cleaned up and cleared out areas that were in need of attention. Alf seemingly never tires of serving this church!
Continuing Staff:
We are thankful that
Elizabeth Connery
has taken on a new and bigger role... she is now the
Business Administrator and Bookkeeper
for the church. She is quickly learning her new responsibilities and her attention to detail is greatly improving our business operations.
John Alec Briggs
and
Elizabeth Haskett
are continuing their music ministry as
Director and Assistant Director of Music
. This year, John has let go of his work at OBU and relocated to Little Rock so that he can focus more on his ministry with us. We're already reaping the benefits of both John's and Elizabeth's talents.
The Rev. Cindy Fribourgh
retired this year from her work with SUMMA, and continues as our beloved
Deacon
, leading all our outreach ministries.
Carley Harrigan
is the
Director of our Early Childhood Center
. She became the leader of this expanded ministry in the fall of 2019, only to have the program forced to close in March of 2020. She is doing an amazing job, not only bringing it back, but adding classes and days as the program grows.
Katherine Strother
is always a steady presence in the office as the
Assistant to the Rector
, supporting my work with all kinds of tasks, and doing that while she warmly responds to phone calls and welcomes people to our campus during the week.
And finally, I am so glad that I get to continue as your Rector. Every week, I'm leading worship, preaching sermons, teaching classes, making pastoral calls, and doing my best to serve you faithfully. Please know that I am available to support you in your spiritual needs.
We certainly do have a wealth of talent here, and I'm grateful for all who make up this team. There are still some areas of leadership that need more attention, which is why I hope that we can add an Associate Rector in the near future.
In gratitude we close every staff meeting with the following words from the letter to the Ephesians:
Glory to God whose power, working in us, can do infinitely more than we can ask or imagine: Glory to him from generation to generation in the Church, and in Christ Jesus for ever and ever. Amen.
back