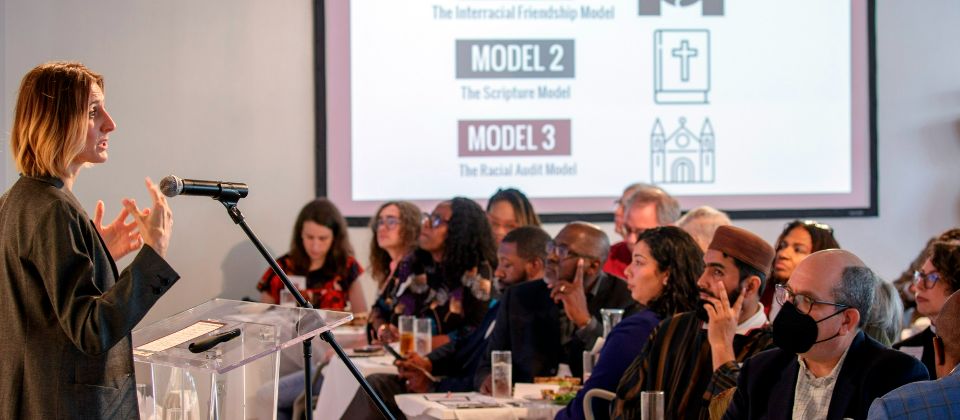 Little Rock Race & Faith Summit
by anonymous
on December 2, 2022
On November 2nd, The University of Arkansas at Little Rock and the Clinton School of Public Service held the Race and Faith Summit. This was the culmination of the Little Rock Congregations Study, a community-based research project founded by Dr. Rebecca Glazier of UA Little Rock. As part of the study, members of St. Margaret's responded to a survey in 2020 along with churchgoers throughout the city, and the Rev. Mary Vano was one of the Little Rock clergy interviewed by UALR students.
The 2020 survey revealed that 78% of congregation members identified that Little Rock has a problem with racial division. The results also showed that race relations is the number one issue that people want to see their place of worship engaging to solve. This combination suggests that churches in Little Rock are well-positioned to help improve race relations in our city.
At the Race and Faith Summit, Dr. Glazier reviewed the research results,
and suggested three models for church engagement.
You can read the summary here.
There were also some inspiring sermons from local pastors, as well as a panel discussion about local initiatives. The Rev. Mary Vano was invited as a panelist to share about the
"Talking about Race & Faith" episode
of St. Margaret's "J.O.Y." podcast.
If you are interested in ongoing conversation about healing racial division, please note that St. Margaret's will soon offer the opportunity to explore Sacred Ground, a film and readings-based dialogue series on race, grounded in faith. It is developed by the Episcopal Church as part of the Church's long-term commitment to Becoming Beloved Community through racial healing, reconciliation, and justince in our personal lives, our ministries, and our society. The program consists of 11 sessions, lasting approximately 1.5 hours. The Rev. Michaelene Miller would like to assess your interest on how you would like to participate.
Please complete this google form online
and/or speak with Michaelene about your questions and interest.
back