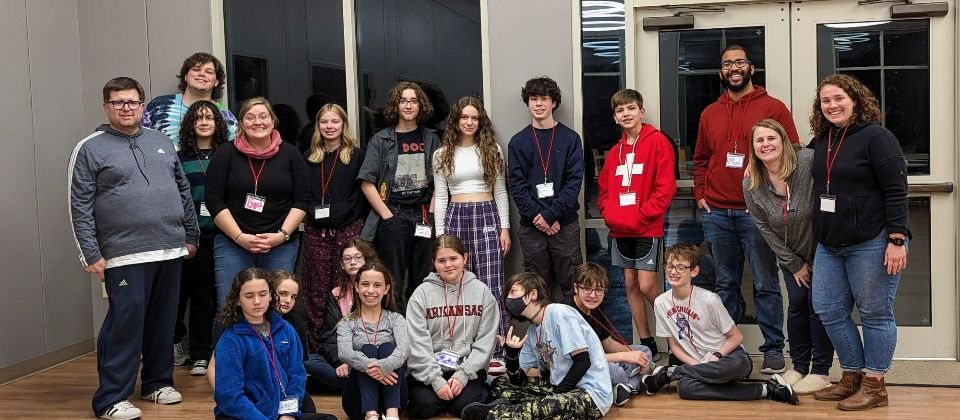 In+Pathos: A New Middle School Youth Retreat
by The Rev. Michaelene Miller
on March 2, 2023

In the evening on Friday, February 10, eleven middle school participants and three high school small group leaders from across the Diocese of Arkansas gathered at St. Margaret's with several adult youth leaders to experience the first ever In+Pathos event, a new diocesan overnight retreat for 6th - 8th grade youth. The event aims to enhance an understanding of empathy using principles from Brene Brown and beliefs of the Episcopal Church, large group talks, and small group reflections; uncovering the why and how, as people of faith, we care for and treat others and ourselves. Episcopal youth are often forward thinking and progressive in many ways and this retreat aims to help youth connect their actions in the world (the "what they do") to their faith (the "why" and "how they are to be").
On Friday evening, the event opened with large group get-to-know-you-games before the participants were introduced to their high school small group leaders and participated in more, fun team building activities. From there, the first large group talk helped introduce everyone to the tools of the emotion-wheel and breath prayer as well as the concept of empathy, distinguishing it from pity and sympathy. Eventually the evening winded down with compline prayers before bed.
Saturday held more large group talks, including: "Seeing Myself," "Seeing Others: Who is my Neighbor," "The Why and What of my Faith: The Baptismal Covenant," and "We are Beloved by God - Now What;" small group reflections to process and integrate the information into daily life encounters with God, others, and self, as well as yummy food and more games of course! The day wrapped up with a Beloved Closing Worship Service and a Beloved Celebration Bash!
St. Margaret's youth, Alex Repp, participated and shared his experience: "I really liked learning the difference between pity, sympathy, empathy, and compassion. We had a lot of fun playing games and staying up late. I also liked spending time with friends from EYCollab."
Matthew Vano also attended as a Small Group Leader. In reflection, he shared what he saw and hopes for the future of In+Pathos: "I found a lot of the games fun, and I also found it to be fun and helpful for the kids to be able to talk about subjects such as empathy with other people their age, and outside of a school setting. One thing I saw in my small group that I found impactful, was my group having discussions maturely, which is not always easy for kids that age with topics such as the ones we were discussing. For one, I hope that more people attend In+Pathos in the future, and I hope that those who do are able to take into their lives the things they discussed or found at the event."
In+Pathos was developed by Ashley Haggard of St. Mark's, Emma Mitchell of Trinity Episcopal Cathedral, Marvin McLennon of Christ Church, The Rev. Michaelene Miller of St. Margaret's, and Randall Curtis, the Ministry Developer of the Diocese of Arkansas.


back