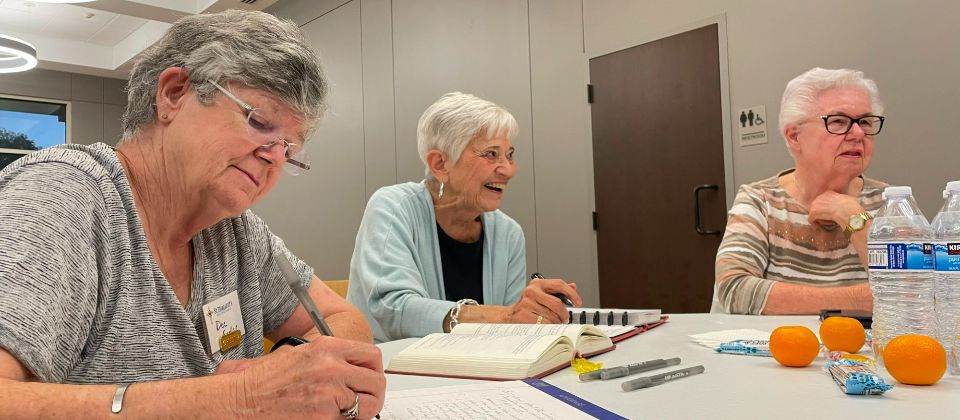 Holy Conversations: St. Margaret's Thoughts about our new Bishop
by The Rev. Cindy Fribourgh
on November 29, 2022
A group of 13 persons gathered on November 3 at St. Margaret's to participate in one of about
60 "Holy Conversation" sessions held through Arkansas to receive input for development of a profile to describe our Diocese – our history, finances, challenges, ministries, and hopes and dreams, along with the qualities we desire in our next bishop. Our current bishop, the Rt. Rev. Larry Benfield, will retire in early 2024.
The Bishop Search Committee will compile answers from these meetings to create a profile that will be posted on the Diocesan website in January for potential candidates to review.
Three questions were posed at each "Holy Conversation." Those questions, along with a synopsis of the answers from St. Margaret's meeting were:
What are the best things about the Diocese?

Inclusive and openminded. In the current political climate, we are more of a haven than some other churches.

On the cutting edge of open mindedness, progressive.

We look at the larger picture. Peacemaking, welcoming, low conflict

Shared Leadership.

Helping smaller churches grow

Camp Mitchell
What are the challenges/opportunities for this Diocese?
Growing membership, especially youth and youth programs.

Supporting rural/small parishes

Congregations sharing resources (learn from one another)

Outreach and evangelism

Money
What qualities would you like to see in our next Bishop?
Compassionate

Exhibits love of God

Accessible, open door. Connected with the greater diocese.

Good business sense.

A good listener/communicator

Patience, self-control, kind, humble

Sense of humor – relate to people

Ability to make difficult decisions

Call to mission to be a bishop
The Bishop Search Committee will select a slate of candidates through applicants' responses to essay questions and interviews, sermon reviews. All
candidates also undergo reference checks, and background checks.
This slate of candidates must also be approved by the Standing Committee of the diocese prior to a special Electing Convention August 19, 2023 at Trinity Cathedral in Little Rock.
Delegates for 2023 Diocesan Convention representing all congregations in Arkansas, in addition to a youth delegation, will vote at the Electing Convention to select the XIV Bishop of Arkansas.
Information about our bishop search may be found at episcopalarkansas.org/bishop-search.
back