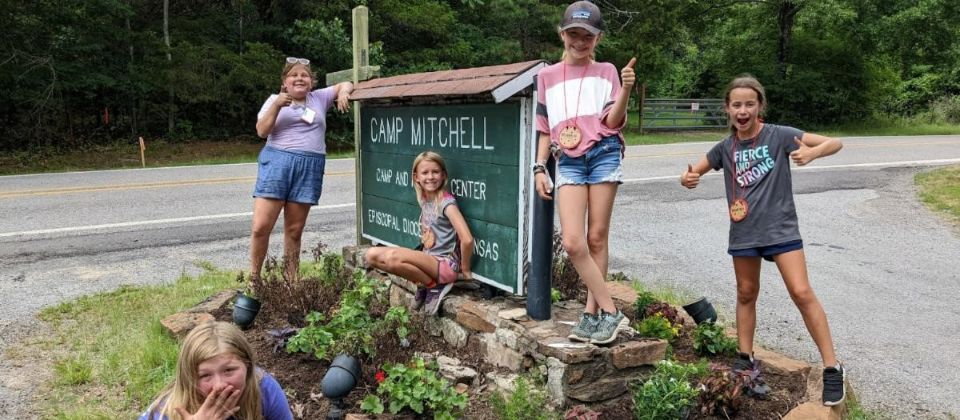 Giving Thanks for Camp Mitchell
by The Rev. Mary Vano
on August 30, 2022
Camp Mitchell on Petit Jean is the camp and conference center for the Diocese of Arkansas, and a beloved holy place for Episcopalians around our state. It provides a place for our children and youth to make friends at camp and learn about God. The camp hosts retreats and meetings where people can gather away from the busyness of our daily lives and grow in faith. Camp Mitchell is even open for the holy occasions of our lives: weddings, family reunions, and private retreats. The camp is important to St. Margaret's and to all the Episcopal churches in Arkansas, and thankfully, Camp Mitchell is coming through a difficult season with renewed life for our shared mission. Our diocesan camp needs our continuing support, so if you haven't read about what's happening lately, please take a look at the report below from the chair of the Camp Mitchell board, the Rev. Greg Warren:
Mid-Year Update on Camp Mitchell Operations
From: The Rev. Greg Warren, Chair of the Board of Trustees
To: Friends and Supporters of Camp Mitchell
As of June 30, Camp Mitchell has had six months of semi-autonomous operation and completed three months of full re-opening. In the interest of transparency and on behalf of the Board of Trustees, I wanted to share an update on the state of the Camp.
Overview
Camp Mitchell is, financially, in a good place. Summer Camp attendance is up over 2019 (our last year opened), giving is way up–both financially and in terms of volunteer support, expenses are being managed. Revenue from rentals and retreats is behind what we expected, due to continued issues with facilities, following two-years of inactivity and years of deferred maintenance. We are open for fall rentals and retreats.
Strategic Goals
We developed five core strategic goals, based on the great work of the Camp Working Group in 2021. A copy of the report is available here.
Develop a sustainable standalone business model. Progress: +/-
Overall, we anticipate ending 2022 with a positive revenue of $64,000 (before depreciation) and do not anticipate taking on additional debt or requesting additional funds from the Diocese. Drivers of performance include: (1) Non-Diocesan YTD giving. Giving from individuals and churches for operations is very strong, especially compared to pre-Covid benchmarks:
Year

2016

2017

2018

2019

YTD 2022

(thru June)

Non-Diocesan Contributions

$24,593

$62,954

$44,433

$24,593

$88,393
This is on top of substantial fundraising support in 2021. The Board of Visitors September event raised over $110,000 and our Fall Appeal netted nearly $40,000. This level of support from the Camp Mitchell community is unprecedented.
Special thanks to the many individuals and churches who have given generously. Of note, among others, are Trinity Pine Bluff and Trinity Little Rock for giving monthly. St. Paul's Fayetteville developed a highly successful matched giving effort among its congregants. The Spring appeal letter and fundraiser, Mountain Lights, each netted over $15,000 in donations. (2) We have been able to diversify our giving streams, including Grants (St. Mark's Mustard Seed, St. Michael's Beyond Our Walls), non-church grants from Blue & You and Arkansas Interfaith.
Diversify revenue streams at Camp. Progress: -
A key finding of the working group was the need to identify sustainable revenue streams outside of our peak summer season. We were severely hampered by (1) exceedingly poor state of physical plant resulting from the 2021 February freeze and years of deferred maintenance; (2) continued challenges from Covid-19, resulting in camps being postponed (Middler), consolidated (Robert R. Brown). In spite of this, we expect a total of 328 campers this year (up from 289 in 2019–reversing a decade-long slide in attendance). (3) Additional rental income from online property rental platform VRBO, direct rentals, and church/organization rentals had to be delayed until facilities are fully operational. (4) No new CM retreat programming yet scheduled, as the focus has been on Summer Camp.
Looking ahead, we have identified a $45,000-$50,000 budget gap in the back half of the year to meet our planned $77,129 net revenue goal. Under the leadership of our new Executive Director, Rebecca Roetzel (August start date), we think closing this gap is achievable through a combination of incremental programming, sustained emphasis on increased word of mouth and marketing, and facility rental.
Manage Expenses Progress: +/-
Administrative expenses (non-personnel) are tracking at +10% over budget, driven by higher-than-expected maintenance outlays associated with the reopening of camp. We've also had much higher plumbing and wastewater management expenses, due to the near-failing state of the wastewater treatment facility. And inflation pressures and restart costs have affected our Food Service costs (+26% over budget). We expect these costs to even out throughout the year.
Personnel expenses are 16% below budget, driven by staff vacancies (Executive Director, Food Service, Groundskeeper), as well as increased reliance on volunteers for office and kitchen help among other roles. We have a flexible staff in place that is willing to pivot to tackle challenges as they arise. This flexibility will be key to manage costs in the coming months when revenue
declines.
Implement strong financial controls. Progress: +
Under the leadership of board member Denise Chai and Kathy Schmeltz, our finance manager, and the patient and ongoing work of Mary Jane Hodges and Lou Stinnett, Camp successfully navigated a transition from ACS accounting software to Realm. This has allowed us to develop reporting that gives us earlier insight into potential fund challenges. To-date, we've been able to identify and implement aggressive expense management in the early weeks of Camp. It also highlighted a potential shortfall in non-designated revenue and, as a result, allows us to take early action to maintain cash flow. Overall, since taking control of our finances, we are able to know where every dollar is coming from and where it is going. This is an unprecedented level of financial control at the Camp. A link to our mid-year financial statements can be found here.
Get the Word Out Progress +/-
The key driver to Camp's sustainable operation is through growing our non-summer camp utilization. The principal barrier to this is, quite frankly, a lack of awareness. We've seen sustained growth in our social media engagement, especially with camp underway. We have launched a camp store this week to get the word out. A link to the store can be found here. Some tactics we're supporting in the back half of the year to drive Camp's profile include:
(1) "Kitchen Takeovers" Fundraisers with our highly regarded chef Michael Campbell (Culinary Institute of America-trained, worked under Thomas Keller at French Laundry Restaurant in Napa Valley). Michael managed the twin gauntlets of making Episcopal Church Women and Primary School Campers happy with his food.
(2) a mid-year 'thank you' mailing to donors and potential donors;
(3) A Board of Visitors Fall Fundraiser (weekend of September 24);
(4) and a fall direct mail effort.
More events are in planning and will be announced in coming weeks. Rebecca has already indicated she's more than willing to come meet you to tell your organization the Camp Mitchell story. Our rates and available facilities are on the Camp Mitchell website. We will soon be listed on VRBO. Please consider making your next stay at Camp Mitchell. The Mountain is calling you back.
Greg Warren +
back