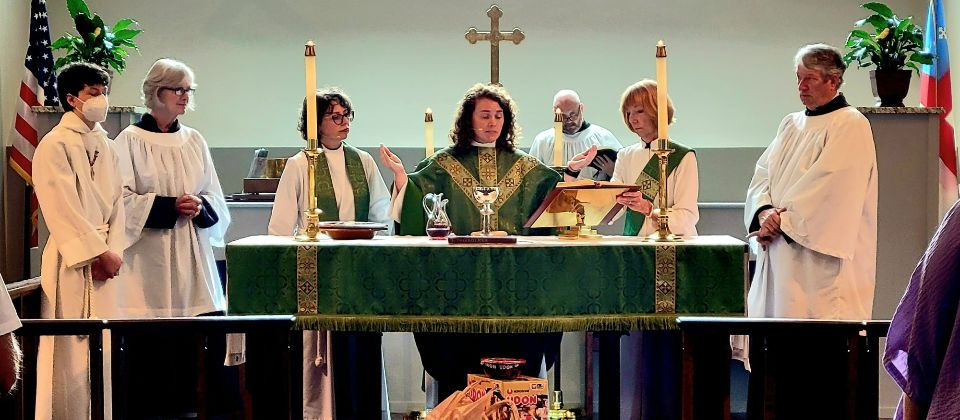 Getting to Know the Rev. Michaelene Miller
by The Rev. Mary Vano
on September 1, 2022
Have you had a chance to meet our new Associate Rector? I sat down with the Rev. Michaelene Miller to ask her a few questions. Please do take time to get to know her!

Tell us about your faith journey, why you decided to become a priest, and your favorite part of being a priest.
Three things come to my mind – faith formation goes way beyond Sunday morning, invitations are powerful, and representation matters. I've long been formed by the Episcopal Church, but only some of that happened on a Sunday morning. I grew up attending The Cathedral School, then Episcopal Collegiate, and those catechesis stories in religion class and school day rhythms built around chapel cultivated a lifestyle of learning with and wondering about God in a way that was just the water I swam in and hardly noticed.
I mentioned invitations are powerful because it was in high school when I received an invitation from a friend to attend Happening, an Episcopal youth retreat where I deeply encountered God's love and found a community of peers, and it is truly that moment of invitation that I identify as the catalyst for my journey to the priesthood. (So never underestimate your power to extend an invitation!) Meeting other youth who shared my faith and held similar values was meaningful and it led to more invitations to attend EYC gatherings and summers at Camp Mitchell. As I found an incredibly loving and inclusive community in the Episcopal Church, I was also learning a lot about the nature of God – and who God was inviting me to be.
While at Hendrix College, I eventually realized those built-in water channels of faith formation were gone with my school days and that it was up to me to be intentional about cultivating my faith so I started seeking out a faith community. I found space to explore at the Hendrix Miller Center for Vocation, Ethics, and Calling, at Camp Mitchell each summer as a Counselor and then Camp Director, and eventually (finally!) even started attending church regularly on Sunday at St. Peter's in Conway where I met The Rev. Teri Daily. Teri was the first women Episcopal priest I remember meeting and as I saw her gather the community for worship and nourishment in the Eucharist, I had an inkling of a thought born in my heart. For the first time, I fully identified with a priest and began wondering about what that meant. In looking back, I'm truly struck by how much representation – being able to see yourself represented and reflected in the other - really matters.
Through a series of events (surly orchestrated by the Holy Spirit), I found myself studying Christian Youth Ministry and writing bible exegesis papers while studying abroad in Chester, England. When I returned to Hendrix, I quickly switched my Pre-Med minor to Religious Studies, made a quick phone call to the parents, started formal discernment for ordained ministry at St. Peter's, and began applying to Episcopal Service Corps programs. Throughout all of this and all that followed, I continued to feel and follow God's call to form inclusive communities around the liberating and life-giving love of Jesus Christ. This eventually led me to the priesthood, where I can most fully live out this call, and being able to daily live out this call to cultivate and form communities that center on Christ and expand to include and love the other is truly my favorite part about being a priest (in addition to too many other things to name!).
Who inspires you?
In recent years, I've been deeply inspired by the life and witness of The Rev. Dr. Pauli Murray and I hope you will be too! Dr. Murray was a poet, author, civil rights activist, feminist movement leader, professor, first black person to earn a JSD from Yale Law School, and the first black person assigned female at birth to be ordained as an Episcopal priest. You can learn more at www.paulimurraycenter.com. I'm also inspired by the kindness of my husband, Ernest, and the ability of our animals, RustyDog and StreetCat, to play hard and rest hard.
What do you enjoy doing in your free time?
Anything that takes me outside! Recently, that has looked like getting to know our new yard at home, hillwalking around Hillcrest, hiking in the woods, running down at the river trails, and trying to keep up on the Ultimate Frisbee field at Burns Park.
What kind of work were you doing before you came to St. Margaret's?
For the last three years I was doing House Church and forming communities of young adults who wanted to live in an intentional Christian community, cultivate a life of serving others in solidarity, and advocate for God's justice. I did this while working on the Bishop's staff in the Diocese of Missouri as the Director of the Deaconess Anne House, which is the St. Louis branch of the Episcopal Service Corps.
Why were you interested in becoming our Associate Rector?
After several years of intensive community formation with young adults where I also had to send them back out into the world year after year, I began feeling a desire to return to parish ministry at some point. And when I learned St. Margaret's was looking, that desire was met with a pull I couldn't ignore! St. Margaret's has an incredible building but this place is here for God and its people. It truly feels like a community, and one that lives so deeply and honestly into the rhythms of our faith. I was very interested in joining in the effort to cultivate those rhythms and extend invitations to experience this formation as we become the Body of Christ acting with love in and around West Little Rock!
What do you hope for your ministry here?
I hope that my ministry at St. Margaret's continues to extend and helps create even more invitations for you to live even more deeply into your relationships with each other and with God – that we each discover and grow in our understanding and ability to embrace our unique role in God's unfolding dream for Creation.
What kind of support from our community would be helpful to you?
Don't be a stranger! Help me get to know you -- who/what you care about and how you see God's Spirit moving in your life these days. Introduce yourself at church, write me a letter, send me an email, or, even better, let's find a time to talk over coffee!
What have you learned in your first few weeks at St. Margaret's? Any surprises?
I've been meeting and really enjoying conversations with a number of St. Margaret's members who have been with this community since it was first meeting in a movie theater. It's had me thinking a lot about how new and fresh the community of St. Margaret's really is! (I'll let you guess who is older – me or the St. Margaret's community!). St. Margaret's is a new community in an ancient tradition, and I find this really exciting! As a new and growing community, there is so much possibility for this community to create together and also so much ability to respond with agility to needs as they emerge in our world. And we really are living in an emerging world right now.
back