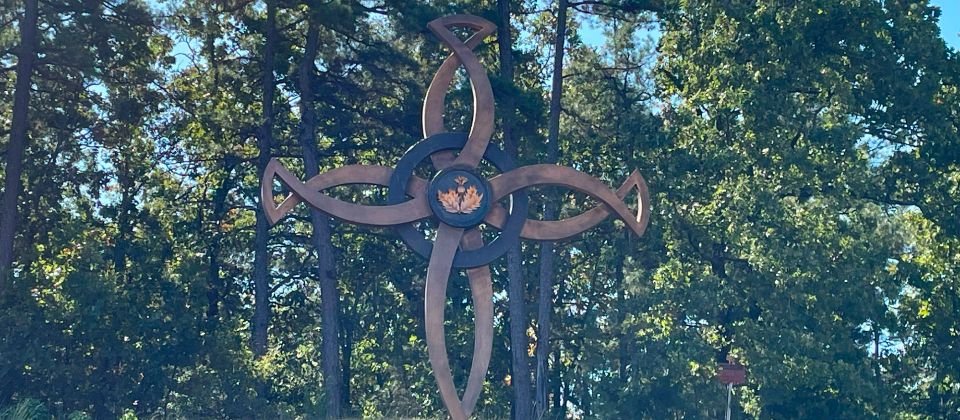 Dedication of The Cross on the Hill
by The Rev. Mary Vano
on September 28, 2022
On Sunday, September 11th, the new Cross on the Hill was dedicated in loving memory of Carol Williams and Amy Williams Hartsell with the following announcement and prayer led by the Rev. Mary Vano:
In 2016, in celebration of St. Margaret's 25th Anniversary, we commissioned local artist Hunter Brown to design a cross for our sanctuary. Drawing on the Celtic traditions of St. Margaret of Scotland, Hunter put a modern Christian twist on an ancient Celtic knot design, surrounded it with a circle, as was a common support for crosses in Ireland and Scotland, and used the Scottish thistle – another symbol of St. Margaret for the centerpiece. Since then, this unique cross has become an icon of our church here in west Little Rock.
In 2021, after weather destroyed a church sign on the hill at the corner of Chenal Parkway and Chenal Valley Drives, the vestry spent much time in discussion about how to replace it, and with what. Our decisions had to be made with approvals from both the city and the Chenal Valley Property Owners Association. We finally had the answer that pleased everyone when we decided to place an 18-foot replica of our sanctuary cross on the corner as an invitation to all who drive by to encounter Christ in this place.
The lead donor for this project was Alf Williams, and many others also stepped up to provide funding in celebration of our 30th Anniversary. I am grateful for all your generosity. The Cross on the Hill is dedicated in loving memory of Alf's wife and daughter Carol Williams and Amy Williams Hartsell. Alf and Carol together helped to found this church, and for many years, Carol would be seen smiling and greeting newcomers as they entered the church on Sunday mornings. Amy, who had returned to St. Margaret's as a member in recent years, died after a short illness in early 2021. Her mother succumbed to her long illness just days later. They are both beloved here, and I'm delighted that they will be remembered in this way, and particularly that, in a sense, Carol will once again stand to warmly greet and welcome our neighbors.
This project – of course – took longer than anticipated. Many people helped to make it happen, but I especially want to recognize the leadership of our Junior Warden, Anna Morshedi. The cross would not be there if it weren't for her gifts of vision, organization, charm, and tenacity.
Antiphon
We will glory in the cross of our Lord Jesus Christ, in whom is our salvation, our life and resurrection.
Let us pray.
Lord Jesus Christ, you stretched out your arms of love on the hard wood of the cross that everyone might come within the reach of your saving embrace: So clothe us in your Spirit, that we, reaching forth our hands in love, may bring those who do not know you to the knowledge and love of you; and we pray that the Cross on the Hill may draw our hearts to him, who leads us to the glory of your kingdom; where you live and reign for ever and ever. Amen.
back