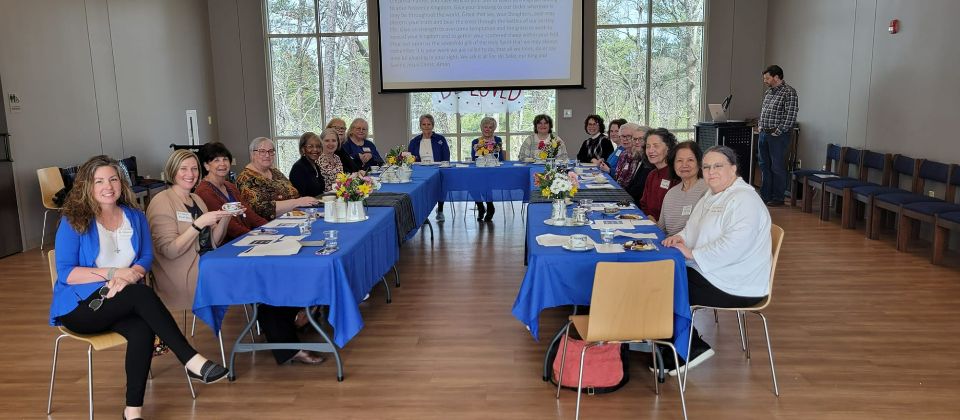 "Come and See" the Daughters of the King
by Suzanne Kirchner
on March 14, 2023




"They said to Him, "Rabbi" (Teacher), "Where are you staying?" He said to them, "Come and see." They came and saw where he was staying, and remained with Him that day." John 1:38-39


On Sunday, February 19, following the 11:00 service, the St. Virginia Chapter of The
Order of the Daughters of the King® held it's first, and possibly annual, "Come and See" tea in the Parish Hall. The purpose of the tea was to introduce our chapter daughters to the ladies of the parish and to learn more about how Daughters serve God through prayer, service, and evangelism.

Several Daughters brought tea sets and Judy Johnson used them to create beautiful floral centerpieces. We had a slideshow presentation explaining a bit about the Order and our chapter's history. March 3, 2013 we were admitted into the Order, so our 10th anniversary is this year.

Ten ladies joined us to learn about our history, projects and future goals. We look forward to growing our chapter and pursuing our vows of prayer, service, and evangelism within our church and the greater community.



If you have any questions, please stop any of us—you'll recognize us by the cross we wear—and we will be happy to share our journey.
February was a busy month for St. Virginia Chapter. In addition to the Come and See Tea,
our Chapter banner was delivered. As our Chapter's 10th anniversary approached March 3, 2023, we have a banner! Designed with chapter input and executed by the fabulous Lisa Thorpe, artist@lisathorpe.com. Lisa has designed and created a beautiful banner for another chapter.
back