Youth Sunday Celebrations
by Michaelene Miller
on June 4, 2015
Maybe you caught the slight jig of the Rev. Mary Vano and several youth's feet as they sang and entered the sanctuary together for the 10:30a.m. worship service on Sunday, May 10
th
. Maybe you didn't. It was a short dance (two quick kicks to the right, two quick kicks to the left, a jump forward, a jump back, then three hops forward, and repeat) to a quick refrain ("dance then wherever you may be, I am the Lord of the Dance said He, and I'll lead you all wherever you may be, and I'll lead you all in the dance said He). Whether you did or didn't, it was different. On any given Sunday, the procession does not typically involve dancing, but then again, May 10
th
was not a typical Sunday. It was Youth Sunday! If you did not notice the dancing than I hope you at least noticed the energetic, youth presence at St. Margaret's. Leading the dancing squad of youth was St. Margaret's new Youth Banner, a gift created and given to the church and the Episcopal Youth Community by the graduating Class of 2015. On the banner is an outline of St. Margaret's church surrounded by healthy, vibrant vines with many leaves. On each leaf, a graduating senior will leave a word that he or she believes best describes their experience at St. Margaret's. Some of the leaves already hold words such as love, family, community, perspective, and faith. Many more are blank and waiting for the parting mark of future graduates.
Youth Sunday is a day of worship set aside at St. Margaret's to focus on, see, hear, and experience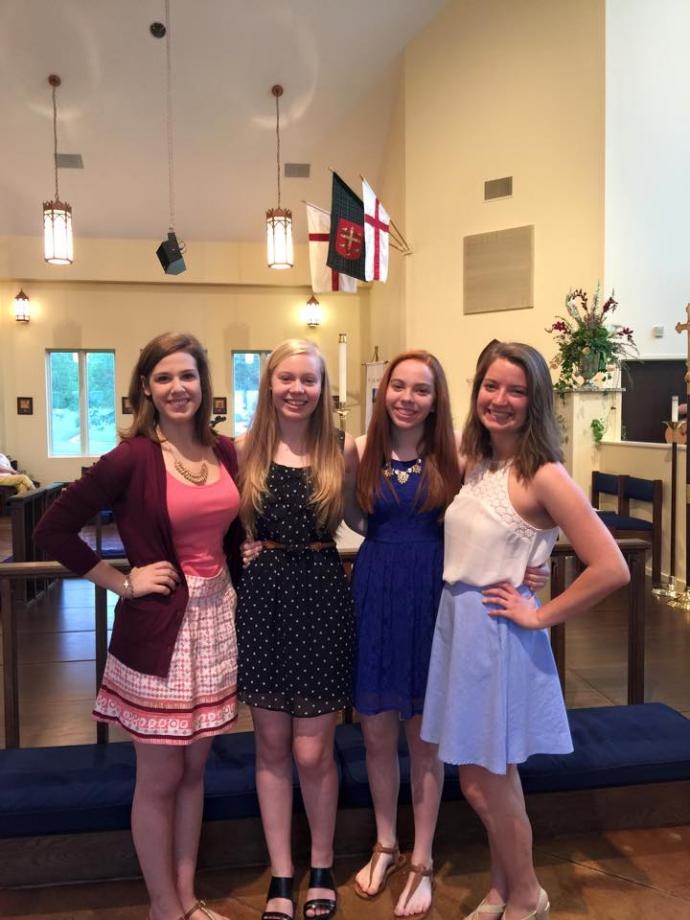 the youth and the important ministry opportunities that are available to them through the church. Members of the Episcopal Youth Community, ranging in grades 6
th
-12
th
, took on leadership roles during the worship service. The youth greeted, read the lessons, ushered, served as acolytes and Eucharistic ministers, and even led the hand signals during an animated singing of "Shine, Jesus, Shine!" Graduating senior Hailey Strother preaced the sermon (which you can listen to
here.)
There was a lot of praise and excitement to witness during the service.
Another aspect of Youth Sunday is honoring the graduating high school seniors. This past Youth Sunday, the St. Margaret's community had the pleasure of celebrating the following graduating seniors in the Class of 2015: Riley Blair, Maggie Davis, Jameson Miller, Caroline Minor, Ashley Oline, and Hailey Strother. Each senior was invited to approach the front of the church while their honors and plans for the next year were shared with their church community. Each senior also received a St. Margaret's blanket as a farewell gift so that they can take a little bit of St. Margaret's with them out into the world.
The youth presence at St. Margaret's is a vibrant and growing community committed to learning about God, making connections, and having fun. The youth hoped to exemplify these values and the Gospel lesson to "love one another as I have loved you" during the morning's worship experience.
Read more about our
Celebrations
:
Pentecost Parish Picnic
New Ministries at FoxRidge
back