Youth Sunday
by anonymous
on June 17, 2017
They call it EYC—Episcopal Youth Community. The name is aspirational at times, a hope for what will be more than a "youth group," but at St. Margaret's our youth have made the title true. A community of youth is exactly what our EYC has become—a place for fun, but also for conversation, relationship, and Christ-like love.
On May 14
th
the St. Margaret's Youth celebrated their community with the whole congregation through "Youth Sunday." This was a day in which the youth looked back over the year and displayed their growth by leading the church in worship. We also celebrated one of the signature Youth fundraisers, the awarding of the coveted "Lent Madness" Golden Halo award (pictured below).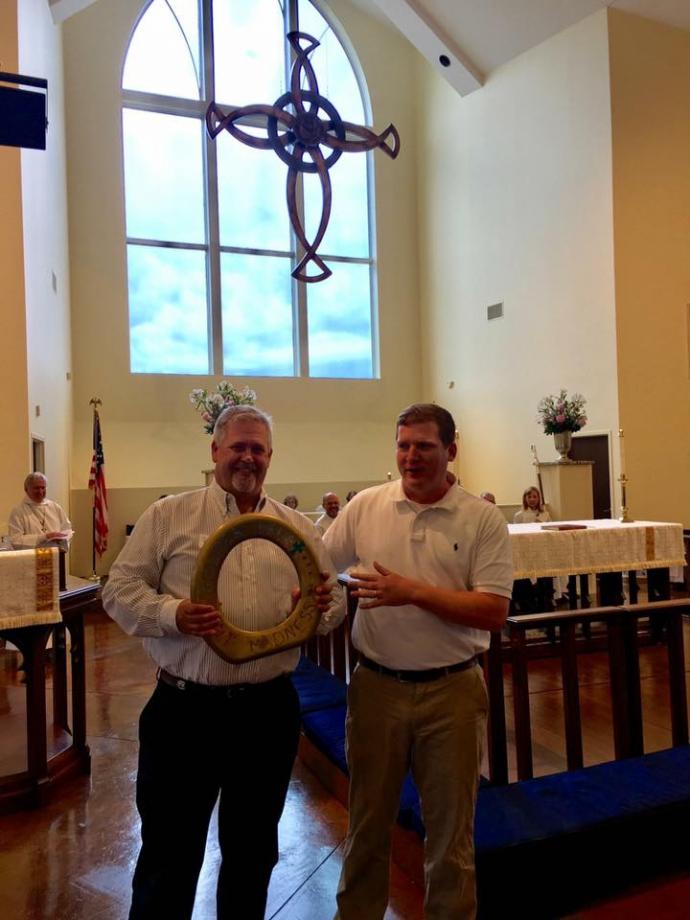 (Ronnie Beggs, Senior High Sunday School Teacher receives the Golden Halo from Richard McKay, our Youth Pastor)
It is the tradition that a senior delivers the sermon, but since there was no senior this year we had the opportunity to hear from Richard McKay our youth leader. Richard reflected on the Gospel and the quiet way that our youth group has grown, not through hype, but through the patient work of conversation and community.
The EYC community have gone their different ways this summer as travel and summer breaks disrupt the regular patterns of life. The community will gather again at the end of July as we embark on a "tour of God's mission," traveling from Nashville to Indianapolis and back to see how God is working in churches and neighborhoods to bring the community of love we get a glimpse of through our own EYC. Like Youth Sunday, we hope that our young people will return to enrich our common life through their own growth and example.
back