Youth Spread Joy with BINGO!
by Bennett Tinnermon
on December 3, 2015
Two weeks ago, the St. Margaret's Episcopal Youth Community went to Fox Ridge Assisted Living Facility to play a few games of Bingo with the residents there. The residents were very excited to see us and play against us. Some members of our EYC played, and some walked around to help anyone who needed it, but they were very serious about their Bingo and never missed a thing! The residents played for what they call "Foxbucks" which they use to buy things at their store. If a EYC member won a round of Bingo, all residents got one Foxbuck. If a resident won, they earned three Foxbucks for himself. The residents are pretty serious about their Foxbucks!
While I was walking around and making sure no one missed a chance to get closer to yelling,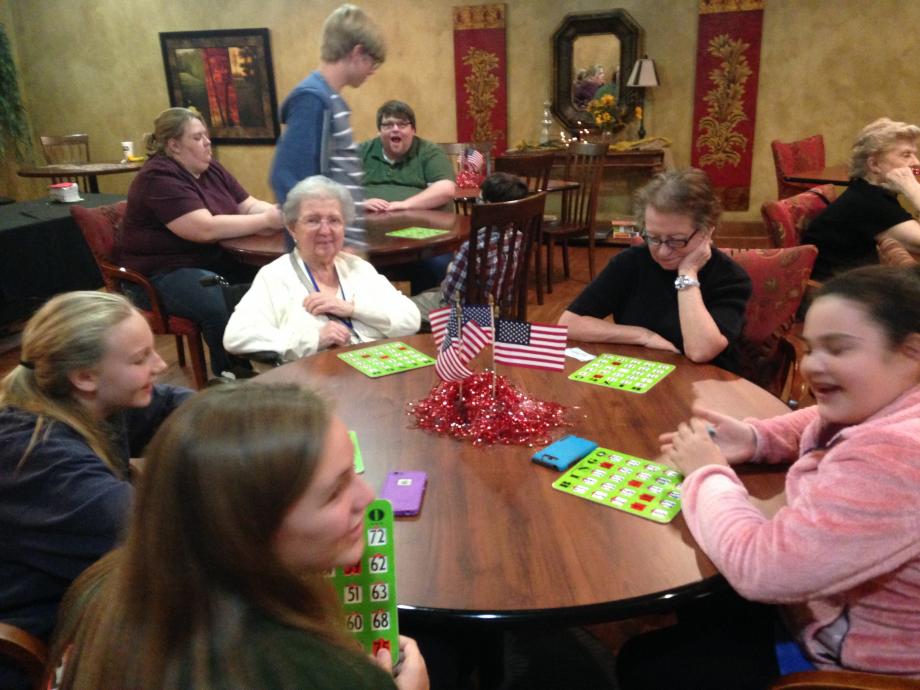 "BINGO!" I asked two residents if they were rooting for the EYC kids to win, since that meant that every resident got a Foxbuck, and they both said yes almost immediately! Whenever an EYC member won, the residents were thrilled and excited that it meant they ALL won.
We had quite a good turnout and some joined throughout the game. One man was watching as he passed - I assumed trying to figure out what we were doing and if he wanted to join. I walked over and explained that our youth group from the church across the street had come to play Bingo with the residents, and asked if he would like to join. HIs reply was short, but quite amusing. "Can I cheat?" I told him that, sadly, he could not. He just looked down and made a "hmph," noise, and walked away.
Everyone that joined in had something to say and they were all very competitive.
Showing God's love and serving others came naturally with the residents of Fox Ridge. The excitment in the room was seen in the smailes of all that attended. It felt good to share that time with them.
After the game of Bingo ended and it was time for us to go back to church, we handed out "Happy's" to the residents. Happy's were small gift bags we put together before going for our visit. They contained chapstick, tissues, a salty snack and a sweet snack. Each Happy had a note written on the outside from an EYC member with things like, "Happy Thanksgiving" and "thanks for having us!" After all the EYC members were on their way back to the church, my mom and I packed up the remaining "Happy's, the Bingo game, and helped a lady back to ther room. On the way there she told us how much fun she had had and how much she enjoyed us playing Bingo with them. She said it meant a lot to have the youth group come, spend time, talk and play because they don't see a lot of younger people.
Many residents told us they hoped to see us again soon for another game, whether it be Bingo or something else entirely. It was a fun experience for the residents and the EYC. Everyone there seemed to enjoy themselves and the company around them and laughing together. HOpefully the EYC can join them again another time.
back