Where Are We Going Next?
by Rev. Mary Vano
on August 30, 2018
RenewalWorks Update
Last month, the St. Margaret's vestry approved an action plan that will provide opportunities for all of us - no matter where we find ourselves on our spiritual journey – to grow deeper in our relationship with God. The plan is to implement insights gained from the RenewalWorks Spiritual Life Inventory and workshops completed earlier this year. You'll notice that these steps includes some work already completed (the Parish Retreat) and ongoing (plans for class offerings), and some items that will be accomplished over time.
RenewalWorks Action Plan 2018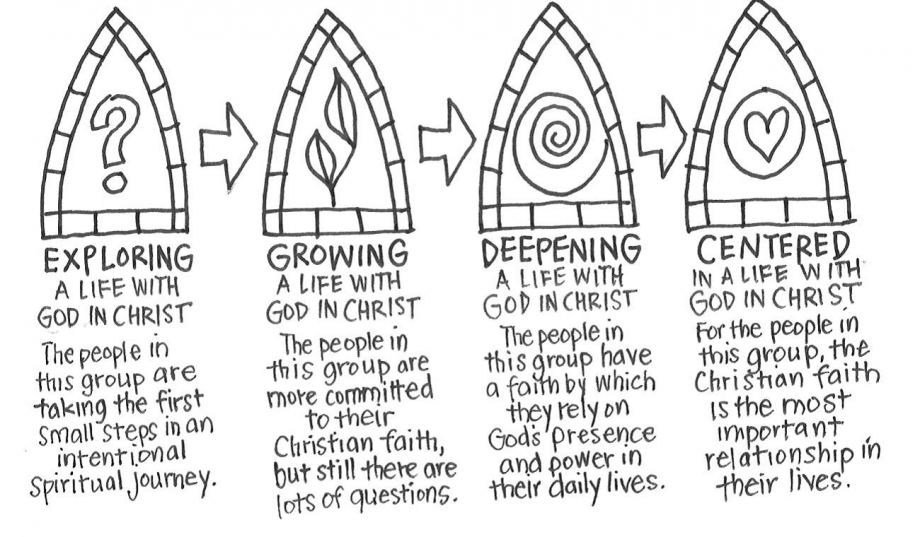 Recommendation:
Energize the congregation around spiritual growth … we need more cheerleaders! One opportunity is at this year's Annual Parish Retreat where church leaders can help people envision a deeper life with God, and learn about ways that they can move forward in their discipleship journey.
Action:
With a theme of "Choose Your Own Adventure," we'll use both the Annual Parish Retreat 2018 and Rally Day to teach concepts of spiritual growth, grow excitement, and encourage parishioners to choose a path of spiritual growth for the 2018-2019 program year.
On Rally Day, parishioners will have an "Adventure Book" or catalog, giving them options for growth in learning and service.
Long term, we hope to continue energizing the congregation by taking a disciplined approach to Christian formation that provides a clear focus on growth, with quality curricula and strong class leaders to keep people engaged and growing.
Recommendation:
Create a culture of prayer. Just like a family, the community that prays together stays together. Include prayer in every communication and every meeting. Perhaps write a prayer for St. Margaret's that can be included in weekly newsletters and other correspondences.
Action:
Train all adult Sunday school leaders and group leaders to make prayer a part of every church gathering. We'll encourage a culture in which all classes and meetings begin with a collect and end with an opportunity for group members to offer their requests for intercession and pray together for one another.
We'll invite the EfM group to write a collect for St. Margaret's that can be used in church publications and at church gatherings as appropriate.
Recommendation:
Offer more opportunities for Morning and Evening Prayer, Daily Office and Compline, led by lay leaders. Use the Columbarium for more activities. Add Book of Common Prayer page numbers to the corresponding passages in the worship bulletin to help familiarize parish members and guests with the BCP.
Action:
We will explore options to create more opportunities for members to learn and use the Daily Office together. Some ideas include:

Create small groups that meet regularly in homes for dinner and Evening Prayer.
Create a Sunday evening candlelight Compline service that meets in the Columbarium as weather permits. Led by lay people.
Train 10-20 lay people to lead Morning and Evening Prayer, and offer it Monday – Friday, either in the church or using Zoom online meetings.

Add BCP page numbers to Sunday bulletins.
Offer the class "Practicing our Faith," as one Sunday morning option. This is a class on Episcopal Beliefs that uses the BCP as a primary text for exploration.
Recommendation:
As we open the three new adult classrooms in the Peggy Bosmyer Christian Formation Center, we recommend offering a selection of Sunday classes that will provide opportunities for growing and deepening faith. Sunday classes should emphasize:
Bible Study
Spiritual practices
Episcopal belief
Action:
As parishioners "choose their own adventure," they'll be given 3 classes to choose from at the 10:00 Sunday class time:

Bible Study – "The Path: Exploring the Bible" is a full-program year class covering the scope of the Bible. Participants will be encouraged to buy a book (which should help them invest in and commit to the program). The facilitator's guide is available free to us and will help a small team of lay leaders.
Spiritual Practices – The Rev. Cindy Fribourgh will organize a curriculum and recruit other teachers as necessary to instruct on a range of spiritual practices, including Centering Prayer, Daily Office, Rosaries, Labyrinths, Stewardship, etc.

Note: due to the construction timeline, this class will not begin until the building opens in November.

Episcopal belief – "Practicing Our Faith" will be led by the Rev. Mary Vano. This course offers a full-program year of lecture and discussion about what we believe as Christians in the Episcopal Church. It makes great use of the Book of Common Prayer, and optional book for participants to read: Walk in Love.

In order to promote a culture of spiritual growth, the 3 new classrooms in the Peggy Bosmyer Christian Formation Center will be dedicated on Sunday mornings to the 3 disciplines of Bible Study, Spiritual Practices, and Episcopal Beliefs. Assuming these curricula work well for us, we will continue to use them for the next several years, offering parishioners the opportunity to commit to one path in the first year, and to choose a different path the following year.
We will also offer a 9:00 class using the same 3 paths, but offering only one at a time.
Recommendation:
The building also provides space that should be utilized both for outreach and continued Christian formation throughout the week. With this space, the RenewalWorks team encourages programs that will provide more entry-points into the church, such as Scouts, book clubs, yoga, and support groups, as well as Interfaith Center, House of Prayer, and other groups.
Action:
This will be an ongoing effort, but our first opportunities to explore will include:
Yoga offered by Shay Fortune, who is currently finishing her work to become a certified instructor.
A Centering Prayer Group
Recovery Group
Encouraging more use by the Interfaith Center and House of Prayer
Arkansas Local Food Network
Recommendation:
The team encourages the use of social media to minister to parishioners on a daily basis, and to reach a younger, un-churched population in our area.
Action:
Currently, email recipients receive a weekly spiritual reflection from our rector, and sermons are made available on the Facebook page and website.
Increase awareness of online tools that are available such as Mission St. Clare, d360, and SSJE.
Add the "Preparing for Sunday" link to the weekly newsletter.
Recommendation:
To showcase the Peggy Bosmyer Christian Formation Center to the community, it was suggested that an open house be held, possibly in conjunction with a picnic. It should be publicized to reach the West Little Rock/Chenal area, and Interfaith communities.
Action:
Appoint a team to make plans for an open house, separate from our Grand Opening Celebration on St. Margaret's Day, November 18, 2018.
Other: Applying the same concepts that we're learning in RenewalWorks to our Senior High Youth, we will renew and strengthen our formation for teenagers.
The Situation:
Our biggest group of teenagers is going into the 10
th
grade this year, making them eligible for Confirmation. Most (but not all) are active in EYC, but very few attend Sunday school on a regular basis. Our model has been to offer an additional Confirmation class apart from Sunday school, but this presents us with the challenge to find a time when all can attend, and also promotes the sense that confirmation is a "graduation" – excusing them from continued participation and growth after they've completed the class.
The Goal:
Our goal with youth is to promote the growth of their personal relationship with Jesus Christ, instill life-giving habits of prayer and worship, equip them to understand and articulate the Christian faith, and build a community that surrounds them with love and grace.
The Plan:
Instead of the "Confirmation Class" model, the Senior High Sunday school class will be designed as a 4-year course to explore the scope of the Bible, learn the foundational beliefs of Christian faith, and receive instruction and practice in a variety of spiritual disciplines that will support their life of faith as they grow. Currently, we're looking at adapting some of the same curricula that we're using in the adult classrooms. Potentially, we would use the following curricula on a four-year cycle:
In addition, we would like to work in one or two "field trips" each year to allow the group to go experience worship in another denomination or faith tradition. Also, we will nurture leadership among older participants by giving those who have been confirmed the opportunity to lead the class some of the time. We'll begin with a parent meeting to clarify goals and promote engagement.
New Confirmation Standards:
Currently, youth may choose to receive the Sacrament of Confirmation beginning in the 10
th
grade and after they have completed a separate confirmation class. To promote a greater sense of lifelong Christian learning, the new standards will be that youth (and adults) will be eligible for Confirmation when they are:
10th grade or older
Participating regularly in worship and Sunday school for at least the prior 6 months

We will avoid becoming legalistic about attendance records, but we will encourage an ideal of every Sunday, and a minimum of "more Sundays than not." If there are youth who want to be confirmed, but cannot participate in Sunday school at least half of the time, we will facilitate their participation in a confirmation class in another local Episcopal church.

Participating regularly in at least one parish ministry of St. Margaret's
2018-2019 Potential Numbers of Participants
9th Grade – 5
10th Grade – 8
11th Grade – 3
12th Grade - 4
back