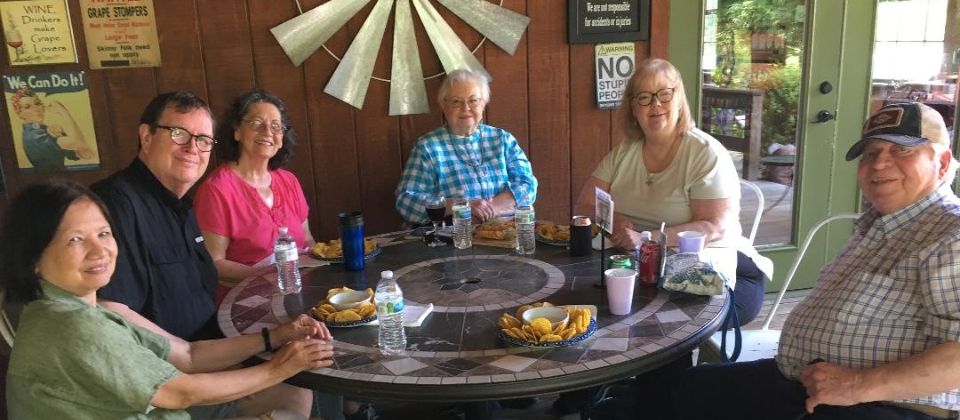 We're Back!
by Suzanne Kirchner
on June 1, 2022
We're back! PrimeTimers is finally ready to ramp up our get togethers after a two-year hiatus. Originally, we planned to visit BoBrook Farms, River Bottom Winery in Roland, in May 2020. Well, two years later, Saturday May 14, we finally made it!
The record-breaking heat for this time of the year kept some of our PrimeTimers away but the group that showed up had a very nice time at BoBrook Farms, River Bottom Winery on Saturday. It's an easy short drive from St. Margaret's. Upon arrival, we were greeted by very nice people working in the neat little gift shop. Besides the wine tasting they have dips and charcuterie. We proceeded outside to the BIG covered back deck with ceiling fans for warm weather and heaters in the cooler months. We enjoyed our samplings, snacks, and good conversation.
Although our group was small, long-time PrimeTimers supporters Rick and Mel Keech were in attendance as well as relative "newcomers" Lisa and Garlan Brandom, along with Carolee Toulson, Nancy Daniels and Suzanne Kirchner rounding out the rest of the group! We plan on doing this outing again in the fall.
This July, our plan is to visit a local restaurant for Saturday/Sunday brunch. If you have a favorite WLR location, let us know and we'll see what we can organize.
In September, we encourage PrimeTimers to attend Ribfest. Next, in October we plan to revisit BoBrook again. And finally, November/December PrimeTimers is planning a holiday event in the Parish Hall brought to you by our great friend and chef, Robert Scott.
Please join us for a fun time in October as we return to the winery! Date to be announced later. Maybe the pumpkin patch will be open for an added treat. For additional information contact Nancy Daniels (homessoldbynancy@yahoo.com, 501-744-6151) or Suzanne Kirchner (suzanne_kirchner46@yahoo.com, 501-562-1066).
back