Tibetan Oracle Visits St. Margaret's and the Arkansas House of Prayer
by The Rev. Cindy Fribourgh
on November 3, 2016

Approximately 150 people from many faith traditions crowded into our Welcome Center the afternoon of Sunday, October 23 to hear a teaching and receive the blessing of the Venerable Thubten Ngodup, State Oracle of Tibet.
The Oracle, known as Kuten la, serves to advise and protect His Holiness the 14th Dalai Lama through 
the interpretation of visions & dreams.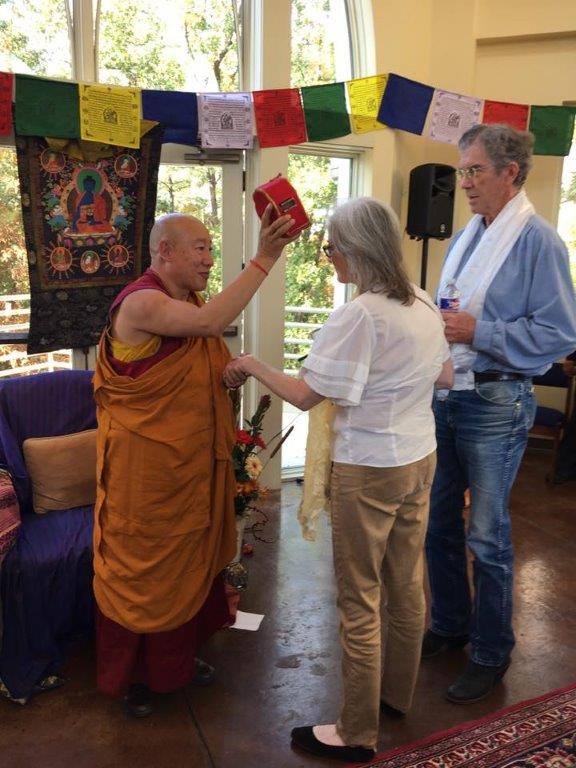 Kuten la spoke of the overwhelming need for unity and peaceful co-existence among the nations and religions of our world, and called for all persons to respect and honor the Divine within each of us.
The program included greetings from leaders of the Jewish, Muslim, Buddhist, and Christian traditions, as well as prayers chanted by the monks. Kuten la clearly enjoyed a song from a children's choir that was formed at this summer's Interfaith Friendship Camp.
Accompanied by Lama Tenzin Choegyal and six Tibetan monks, the Oracle also visited the Arkansas House of Prayer. He is in the planning stages of building a similar structure in Mongolia which will also offer silence for meditation and prayer.
It was truly an afternoon of blessings ... and joy.
back