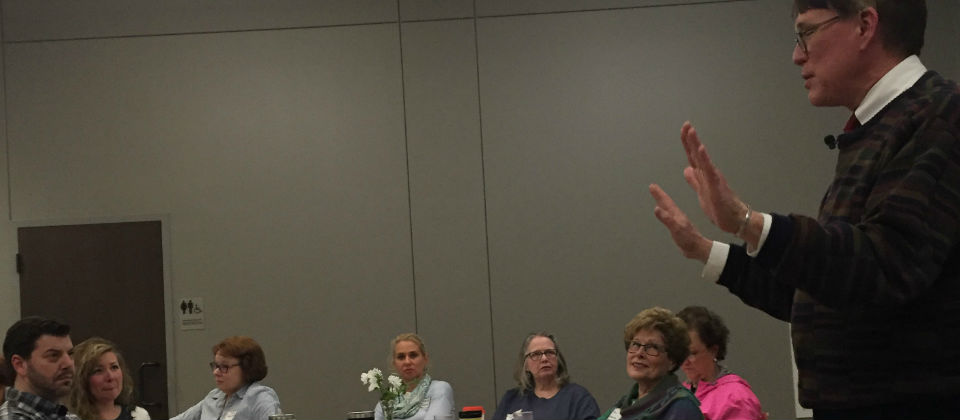 The Enneagram Journey
by anonymous
on January 30, 2020
Nearly 70 people came to St. Margaret's this month to attend "The Enneagram Journey: Discover the Road Back to You." Under the leadership of the Rev. David Fleming, pastor of Grand Avenue United Methodist Church in Hot Springs, we spent the weekend learning more about the nine types of people described by the enneagram teaching, and how we can use this knowledge to understand ourselves better, grow in healthy ways, and develop compassion for others. David introduced the topic, saying, "I'm not here to put you in a box. I'm only going to help you see the box that you're currently standing in."
The workshop attracted members of St. Margaret's, as well as many people from outside our community. With the help of many volunteers, we were able to serve beautiful meals, and welcome people in an atmosphere that was welcoming and energized by our shared learning.
We especially want to thank Rosemary Siegfried, who coordinated efforts with Shay Fortune, Mary Waldo, Susan Scott, Hailey Strother, Caroline Minor, Jan Thames, Skip Cochran, and Lisa Yocum. Drew and Matthew Vano and Clem Fortune bussed tables and washed dishes in the kitchen. With their help, we minimized the environmental impacts of such an event by using real plates and napkins rather than disposables.
With such interest in the Enneagram, we will begin a group discussion of The Path Between Us by Suzanne Stabile on Wednesday nights, starting February 5. If you're interested, please email the
Rev. Mary Vano.
back