St. Margaret's Hosts Veterans of St. Francis House
by The Rev. Cindy Fribourgh
on March 4, 2017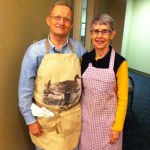 Laughter, warm fellowship, and plenty of good food filled our Welcome Center the evening of Thursday, February 9 when St. Margaret's hosted approximately 45 veterans and staff from St. Francis House. It was a remarkable evening with members of our congregation serving, then sitting down with our guests to enjoy dinner and sharing stories.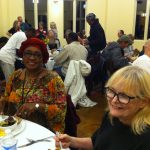 Thanks to the many members of the congregation who brought wonderful food, made monetary donations for grilled chicken, served, and helped set-up and clean-up.
As the veterans and staff departed, I was blessed with many hugs and heartfelt thank yous. Christ was truly present in our midst.
Established in January 1970 as a social outreach of the Episcopal Church in the State of Arkansas, St. Francis House provides services of counseling, transitional housing, meals, laundry, employment services, health care and activities for homeless veterans.
back