Solar Panels Installed!
by Donnal Walter
on October 24, 2018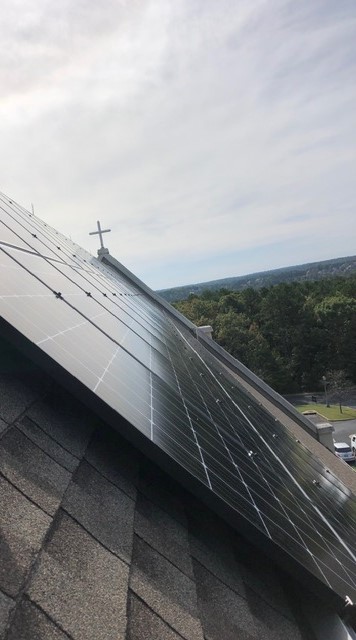 The long wait is over. Our solar panels are up! After a year-and-a-half of planning, prayerful fundraising, and waiting on approvals, St. Margaret's has three rows of solar panels on our west-facing roof (toward Chenal Parkway). More than seventy families from our congregation contributed the funds to make this possible, taking seriously our responsibility to care for the Earth. At a capacity of 305 W each, the 96-panel 29 kW installation will produce an estimated 32 MWh annually (depending on how many sunny days). This will not only lower our electric bill, but will substantially reduce our carbon footprint in a state where much of the electricity is still coal-generated. The amount of CO2 saved is equivalent to five passenger vehicles at ten gallons a week each.
We have taken this step not just because we worship the Creator of the Earth, but as followers of Christ, we experience the mystery of Incarnation, the Word made fle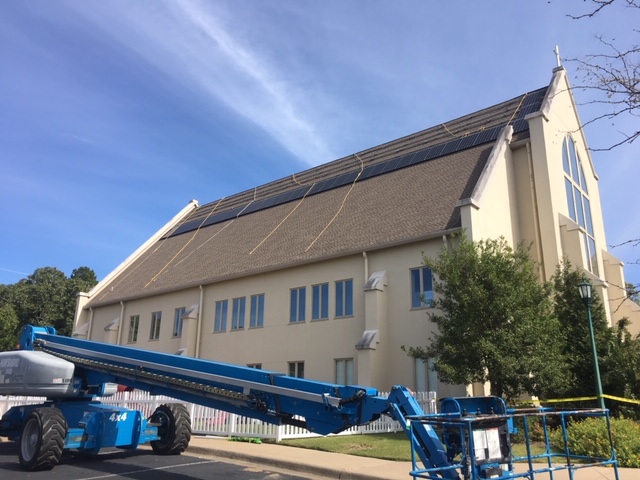 sh, the Creator
present in
the world. We believe our choices make a difference. We are thankful for each family who sacrificially donated to this project, and we gratefully acknowledge the contribution by Arkansas Interfaith Power and Light. Special thanks to Arkansas Energy Ventures who helped us dream from the start, and then installed the panels expeditiously. This a meaningful contribution to the care of our world, and it is also a visible witness to our community.
back