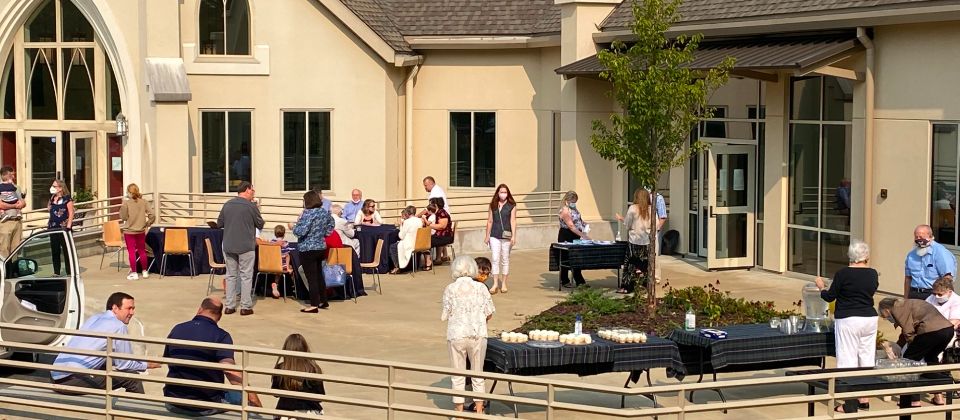 Singing a New Song for St. Margaret
by anonymous
on November 3, 2021
The Delta variant dampened our hopes for a full return in September, but it couldn't stop us from
rallying around our community of St. Margaret's and our mission to Bring the Good News of Christ's love to the world! On our Rally Day of September 12th, Bishop Benfield joined us to offer the Sacrament of Confirmation for four of our teens, and to Receive into the Episcopal Church three new adult members. It was a glorious sign of our continuing growth! Missy Tinnermon organized an outdoor reception with a saint-themed scavenger hunt for adults and kids. We also challenged members of the congregation to write a hymn verse to honor Saint Margaret. We received three worthy submissions which beautifully complemented one another, and we are thrilled to announce that these verses will now be combined into a new hymn. We'll be singing our new song on St. Margaret's Day (November 14)!
Verse 1, by Jason Pennington-Saugey:
From Hungary's distant kingdom,
Of English noble birth,
Brought safely home to Scotland,
As Normans ruled the earth,
Your loving, calming spirit
Laid family strife to rest,
St. Margaret, O dear mother,
Inspire us, teach, and bless.
Verse 2, by Claire Carothers:
Compassion for her country,
Scotland's beloved queen,
Minister to those oppressed,
Her love shown church and king,
Always deeply religious,
Her good works we do heed,
Vocation, wife, and mother,
Instill us to good deeds.
Verse 3, by Mark Magie:
Saint Margaret's crown was Heaven sent,
she answered Jesus' call,
To orphans, poor and royalty,
she was a friend to all,
Of thistle, rose and clover too,
Scots loved their earthly queen,
God's pearl, a noble blessing,
a gift that was serene.
back