Sewanee Music Conference
by John Briggs
on September 8, 2016
In July I had the pleasure of attending the Sewanee Church Music Conference on the campus of The University of the South. Though this was my fifth year at the conference, it was the first where I was sponsored by St. Margaret's, a gift for which I am very grateful. This week long conference is one of the oldest gatherings of church musicians in America and celebrated its 66th year of continuing education in 2016. There were 100 church musicians from across the nation in attendance this year.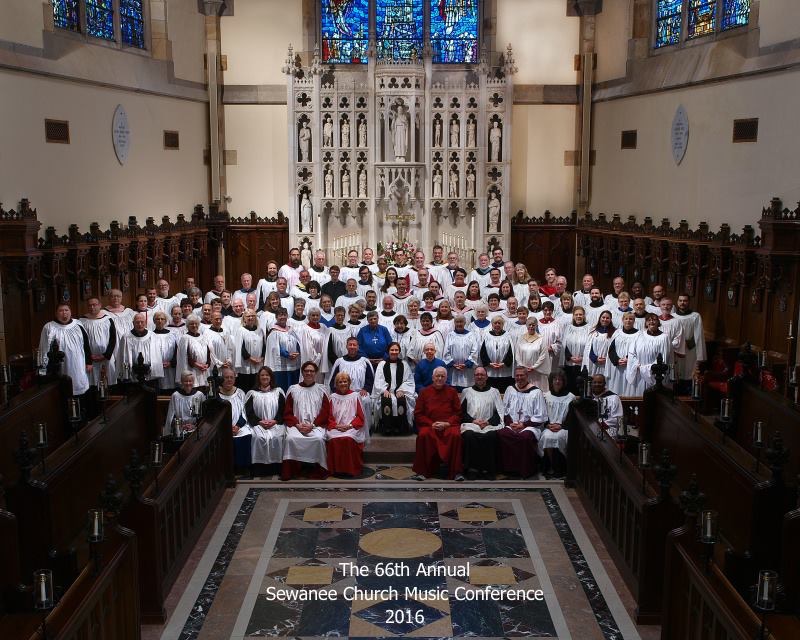 The opportunity to recharge one's spiritual batteries is an important component of the week.

There

were daily services under the guidance of the Rev. Erika Takacs, Associate Rector of St. Mark's Church in Philadelphia, with either Compline, Noonday or Holy Eucharist celebrated in either the Chapel of the Apostles or All Saints' Chapel. Conference attendees also served as the choir for Choral Evensong on Friday evening and Sunday Eucharist in All Saints' Chapel.
Daily rehearsals were required for these large-scale liturgies and served as laboratories where choir training techniques could be observed under the direction of our conference faculty, Dale Adelmann, Canon for Music at the Cathedral of St. Philip in Atlanta, and Tom Trenney, Director of Music and Organist at First Plymouth Church in Lincoln, Nebraska. The afternoons were spent in either organ and choral conducting master classes or liturgical planning workshops. The evenings allowed time for social activities and good conversation with fellow church musicians. There was also time for doing a little jig before Evensong on the lawn, as seen in the accompanying photo.

In addition to traveling to the Sewanee Conference, I also completed more work towards my Master of Voice Pedagogy degree from Westminster Choir College in Princeton, New Jersey. I am a little over a third of my way through the courses required for this degree, and will soon begin work on my thesis.



It's been a hectic but educational summer, and I look forward to applying all that I've learned here in our music program at St. Margaret's!
back