Report from the Vestry Retreat
by Mark Magie
on February 2, 2017
It is an honor to have been selected to serve on the Vestry for the next three years, especially as someone who is new in St. Margaret's family. What I learned at this past weekend's Vestry retreat at Camp Mitchell is that our church is being led by God, and in the good hands of clergy and lay leaders.
Our overnight stay in Canterbury House on Petit Jean Mountain was in itself a spiritual experience, making me feel a little closer to God while surrounded by sweeping views of the Arkansas River Valley and small mountains as far as the eye could see. I couldn't help but think of the Indians who first roamed there and their stewardship of the earth and their spiritual foundations … we could learn much from them. The legend of Petit Jean also came up which some of us decided was just that, a legend; how could a young woman keep up a disguise as a cabin boy among crusty sailors in order to be near her love, a French explorer named Chavez?
I quickly learned that wherever two or more Episcopalians are gathered, there must be good food. The evening meal Friday was prepared by grill master Brian Tinnermon and Leah Dalton, with others pitching in with salad, rolls, desserts and clean up. The camp staff in the dining hall prepared breakfast and lunch on Saturday.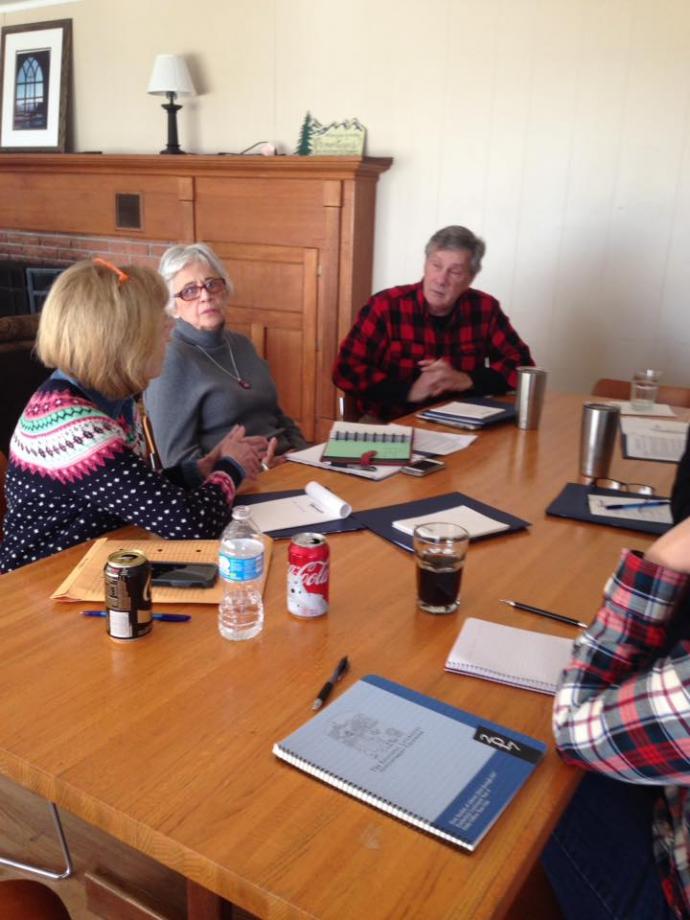 I also learned that Episcopalians don't stray far from the Book of Common Prayer as we recited Evening, Morning and Noonday Prayers, Compline and Collects. How appropriate were the words from Psalm 121:
I lift up my eyes to the hills; from where is my help to come?
There was time for getting acquainted and learning more about each other, all while enjoying a crackling fire in the fireplace. As with most leadership retreats, we talked about parish goals and what we can do with the space we will have available once the Peggy Bosmyer Christian Formation Center is complete. Our focus narrowed to how we can best serve West Little Rock and especially our watershed.
We will continue with church goals to grow in membership and attendance, and especially to let more people know about our 9 a.m. Sunday service. We also talked about how to accept charitable gifts above our regular tithing so that the gift meets the giver's intentions and church's needs through appropriate stewardship. We approved treasurer Bob Joblin's proposal to use the Spiritus foundation.
Church member Carl Bayne, who has chaired a yearlong Discernment Committee, reported on his group's recommendation that St. Margaret's take on a community service project that addresses hunger in our area. I was surprised to learn how many senior citizens and children have food insecurities, which is another way to say, they don't know where their next meal is coming from. Carl's committee identified the need, and our church will devise a plan, beginning small with serving only three or four families.
It was apparent to me that God was present when the discussion led to not just feeding the hungry, but also in befriending them and getting to know them. Jesus felt at home with the downtrodden and we should too. Kudos to Carl, and the vision of his committee, that this should not be a charity program, but rather a life-sharing opportunity. Carl's group studied current community and St. Margaret's outreach programs and brainstormed about dozens, maybe hundreds of other wonderful opportunities, and came back to Jesus' words in Matthew:
Whatever you did not do for one of the least of these brothers of mine, you did not do for me
.
Each of the Vestry members was assigned to one of four committees: Administration and Finance, Property, Growth and Evangelism, and Mission and Ministry (which is the committee I will serve on with Toby Sernel and Leah Dalton). In my committee meeting, I learned we support existing parish ministries and make certain they help our church accomplish its overall mission. There are countless ways in which people can use their talents and gifts in service to God's kingdom, and serving on the Vestry is one way I can do that.
Mary Waldo and I were chosen to represent St. Margaret's at the Diocesan Convention in February in Little Rock. I look forward to the occasion and hope to learn about church governance and hear about God's work throughout our state.
Finally, at the end of the retreat during the commissioning and reading and signing of the Vestry Covenant, I felt a responsibility to help spread God's good news through St. Margaret's Church. I have much to learn about our own parish family, our diocese and the Episcopalian faith. The Vestry is a wonderful place to begin my journey and I am grateful for the opportunity.
Mark Magie
back