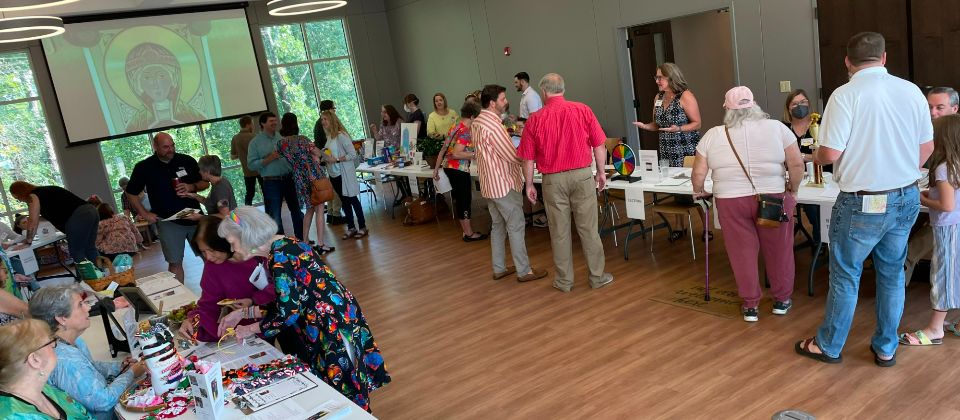 Rallying and Renewing
by The Rev. Mary Vano
on September 28, 2022
Rally Day is a long-standing tradition to call churchgoers back after a period of summer vacations. This year was a bit different, because we are also calling people back to church as the whole world emerges from pandemic and returns to those activities and communities that enrich our lives. While our church endured over the past two years, our fellowship and volunteer ministries have suffered. Following the teaching of St. Benedict, we were reminded that "Always we begin again." This Rally Day gave us the opportunity to invite everyone back and renew the spirit of the whole Church.
It did not disappointment. Nearly 150 people were in attendance - a number comparable
to pre-pandemic Sundays. The ministry fair was lively, with people learning about and signing up for new ministries. In the sanctuary, kids and youth participated in acolyte games, learning from Scott Smith about how to put on an alb, carry torches, and more. Breakfast was being served as people enjoyed reconnecting. Special thanks goes to Missy Tinnermon for her planning of the Ministry Fair.
The Mission & Ministry Team of the Vestry also gave out awards for our #FlatMaggie contest. Over the summer, members were encouraged to take St. Margaret with them in their activities both at home and when travelling. On social media, we enjoyed seeing one another's pictures and adventures. Four awards were given:
Maggie Creative and Prolific went to John Bullen for his many photo-shopped, creative, and humorous posts
Maggie Helpful went to Clarie Carothers for taking Maggie with her as she served others in the community
Maggie Holiday was presented to Erin Weindorf for her picture of Flat Maggie at Mount Rushmore
Maggie Staycation was awarded to Jamie Joheim and family for their photo of Maggie with them as they played Uno in the pool!
Maggie Mystery was won by Anna Morshedi, who was able to identify all the "mystery" pictures Maggie in locations around Little Rock.
On the following Sunday, classes for children, youth, and adults resumed. Every classroom was busy with new opportunities for spiritual growth and Christian friendship.
If you have not yet returned to church, this is a great time to do so!
Our community has so much to offer, and we hope you will join in the opportunities to worship, serve, and grow.
back