New Ministries at Fox Ridge
by Missy Tinnermon
on June 4, 2015
St. Margaret's has taken a special interest in our senior neighbors across the street at FoxRidge and the residents there have welcomed us with eager and open arms. Take a moment and read about what St. Margaret's is planning for the folks of FoxRidge and what has already begun.
The St. Margaret's Women's Group crashed what is normally a typical night of weekly BINGO at FoxRidge and turned it into a competitive Mardi Gras BINGO Party! The residents were so happy to have new faces running around their tables handing out sweet treats, Mardi Gras beads (for those that may have needed a bit of luck), and special prizes for BINGO winners. They loved giving us a hard time as we called out, "B-10," more than once in a game (some of these seniors won't cut you any slack)!

The Activities Director told me how much fun the residents had with our group. I had to confess that I thought we may have had more fun than they did!
I have started a weekly Bible study with a group of women that meets every Tuesday. We are currently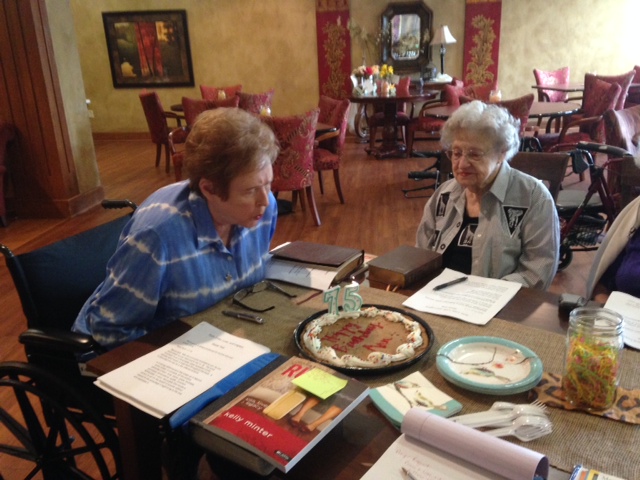 dissecting the book of Ruth with the help of another book called
Ruth: Loss, Love, & Legacy
by Kelly Minter. The ladies and I are taking it slow and digging into to the emotions, strength, and lessons that can be learned in this short but powerful book. We have prayer time, snacks, discuss our readings, and it never fails that one or two women have a life lesson or story from their past that they can
relate to the study and share with the group. We've all quickly bonded and call our group "ALL" (Abundant Love & Legacy).
In May, Mary offered St. Margaret's first service with communion to the FoxRidge residents. This was the first time a full service has ever been offered at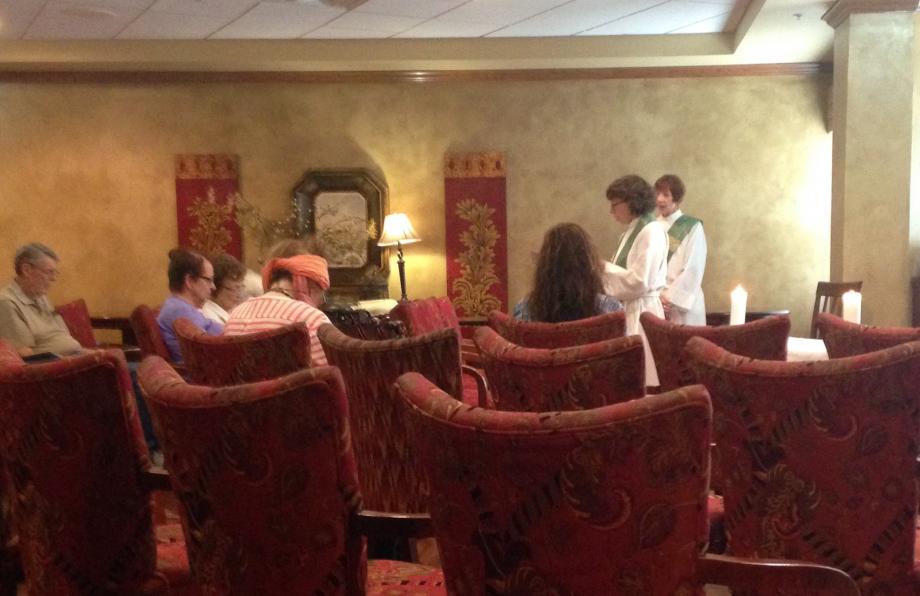 FoxRidge. Residents from different faith backgrounds came together and shared in worship and communion and got to know Mary and Cindy a little better. They all had positive things to say and a couple expressed interest in worshiping with us on Sundays! It was a special time for the residents and we look forward to meeting many new faces at the next service as this will become a monthly event. The next service will be June 17th at 10:30. After that, it will be the fourth Wednesday of every month. Everyone is welcome!
There are tentative plans to have a social or dance in the fall with the help of our very own EYC and I'm also working on plans for special holiday events.
I have spent several days just visiting with different residents in their apartments. Often times I take tea or have lunch with them, other times I'm just there to hold their hand and be present. Some do not have family close by, some do not have family left at all, and some just need a friend. Regardless of their situation, they always tell me how much good it does them to have me there. I want to assure them and you that it is really me that is receiving the blessing. God is working through the sweet people at FoxRidge and through me.

Read more about our Celebrations:
Youth Sunday Celebrations
Pentecost Parish Picnic

After reading over these happenings at FoxRidge, please let let me know if you feel you have something to contribute:an idea for an event, suggestion for an activity, or if you feel led to join us in this new ministry. Most of all, I'd like to encourage you to pray for this outreach as it's in the early stages and we are still getting to know the
residents and staff.
back