Men's Group Rounds Out Its Ministry
by Bob Joblin
on October 31, 2013
As each has received a gift, use it to serve one another, as good stewards of God's varied grace. 1 Peter 4:10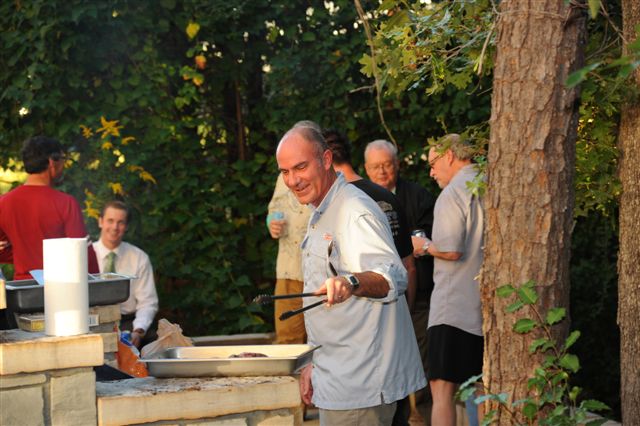 The Men's Group at St. Margaret's has always been a dependable service organization: sponsoring fund raisers for worthy causes, help out with church events, cooking breakfast once a month, and of course, doing all of the 'honey-dos' at the church. It is in the group DNA. What more could there be?
In September, our Rector challenged the Men's Group to revisit its gifts and service goals. Not to question its goals, but perhaps to expand them. Not to question its gifts, but perhaps to apply them more broadly. Heady stuff for a bunch of guys who like to grill out, talk sports and tell tall tales.
After a great fish fry that fateful evening at the Vano home, about 20 members of the Men's Group were left to chew on Mary's message and challenge: What more could there be?
In addition to the Men's Group's foundation of service, Mary suggested exploring four additional interlocking elements of invitation, fellowship, study and prayer. So, as guys are want to do, the Men's Group met again in October to grill and explore. Perhaps because of Mary's message, perhaps because of the beautiful fall evening for cooking out, perhaps because of Michael Connery's killer grilled duck poppers, or perhaps because of all three, the Men's Group succumbed and took one giant step out of its comfort zone to redefine itself.
In Christianity, how can there be service not based on faith? How can there be fellowship without the invitation? How can there be understanding without study? How can any of these things happen without a foundation of prayer? Over bratwurst and beer, the Men's Group found the singular answer for all of these questions to be self-evident: it cannot be.
'We are making an attempt to get away from just being a "digging in the dirt' ministry, explained Alf Williams.
While not abandoning or diminishing its core principal of service to the church and the community, the Men's Group has committed itself to all five of the precepts equally. There will be activities designed around each of the precepts, with team leaders to guide them.
Service: Michael Connery - connerymichaell@uams.edu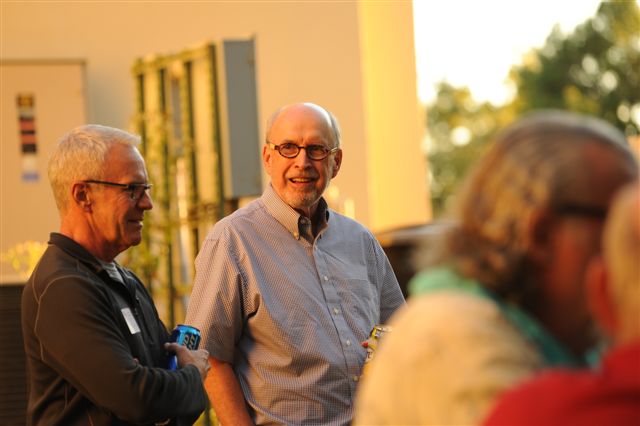 Invitation: Alf Williams - alfcarol@att.net
Fellowship: Rod Toulson - toulsors@hotmail.com
Study: Dan Blair - danblair@danielutility.com
Prayer: Wells Autry - ewautrey@yahoo.com
To become involved with any of these groups, please touch base with the team leaders.
The study group has already checked out its read, according to Dan Blair. "Matt and I have some interest in a book study. I've never read the 'Screwtape Letters' and would like to. It's a rather small book and I think we could read this over 6-8 weeks."
More opportunities for involvement will be announced soon.
What good is it, my brothers, if someone says he has faith but does not have works? Can that faith save him? If a brother or sister is poorly clothed and lacking in daily food, and one of you says to them, "Go in peace, be warmed and filled," without giving them the things needed for the body, what good is that? So also faith by itself, if it does not have works, is dead. James 2:14-17
back