Meet the Super
by anonymous
on February 27, 2018
The Construction of the Peggy Bosmyer Christian Formation is underway, and the Rev. Mary Vano
recently sat down to get to know our Field Superintendent - Randy Lee - of Bell Construction. Randy will be a familiar face around the church for a number of months, so we wanted you to have a chance to get to know him. Here's what we talked about:
Where are you from? How do you come to be in Little Rock?
I am originally from Stevens Point, which is a small college town of 30,000 people in central Wisconsin. I graduated high school there and then joined the US Navy . I was an electrician on a nuclear powered submarine the USS Henry Clay SSBN (Silent Service Ballistic Missile Nuclear Powered) 625 from 1977 to 1981.
How did you get to be in the construction business?
After my enlistment I returned home and decided to give long haul trucking a try. After a couple years of that I returned to my true calling calling Construction. My Construction experience includes electrical, plumbing, hvac, roofing, concrete, drywall and acoustical ceiling, masonary, steel erection, metal buildings, painting, ceramic tile, flooring, landscaping. I first got interested in construction working for my Uncle's company in high school . It was a small company and we performed all the phases of the jobs from digging the footings , to the final cleaning and turning the project over. I was proficient at everything it took to build a house by the time I enlisted. After a 1 year stint working for my Uncle I put my traveling boots back on again for a few years and worked various construction jobs in Georgia ,Florida and South Carolina. Once again returning to WI in 1990. I took a superintendent job with EB Sommers Inc. and remained there until 1995. In 1995 my parents convinced me to move to Forrest City and open my own company thinking the area was going to boom due to the new prison. Needless to say the prison did not generate the economic expansion predicted. So in 1997 I moved to Little Rock and went to Flynco Inc. from 1997 to 2002. During one of our projects I met David Bell and Gary Bell with Bell Construction . In November of 2002 I felt it was time to move on from Flynco and have been enjoying working for Bell Construction since then.
What do you like best about your job?
The variety of work we do keeps it interesting and satisfying . I built Wakefield Elementary, Mann Magnet Arts addition, multiple projects at Camp Robertson and several Post Office renovations over the years. I live in Cabot in a house I built in 2002. I did it all after work and on the weekends.
What do you enjoy doing outside of work?
My outside interests include watching Green Bay Packer football, hunting, fishing, riding my Harley, and most importantly looking after my mother who has Alzheimer's/ Dementia. She has been with me the last 27 months.
Is there anything you want our congregation to know about the building, or how it will be built? Anything you would ask us to keep in mind?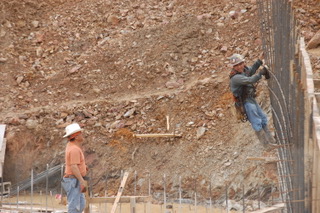 This is another interesting and challenging project and I am looking forward to completing it. A few of the unique things to this job are the retaining wall, the steel structure with wood trusses and the steep roof. Due to some unforeseen setbacks on getting started I am currently in a challenging stage: getting past all this rain. We are currently working on pouring the footings and forming the retaining walls . It is moving along but the rained has definitely slowed progress. I ask for your parishioners forgiveness for any inconveniences that we may cause them and assure you that I will do everything possible to keep them to a minimum and still proceed forward. As some may have seen the other night during there pancake supper we don't always get to work during ideal conditions. But the good Lord never gives us a test we cant pass and we got through it. Between now and the completion of the project there will be close to 100 different people involved from the Architects, to the people doing the final cleaning.
back