Just Communities Honors the Interfaith Center
by Kerri Sernel
on April 3, 2014
JUST COMMUNITIES HONORS CHAMPIONS OF SOCIAL JUSTICE AT ANNUAL GATHERING OF FRIENDS
On Wednesday evening, March 12 at the Darragh Center, Just Communities of Arkansas held their annual Gathering of Friends, where the Father Joseph H. Biltz Award was presented to The Interfaith Center, founded by Reverend Susan Sims Smith, as part of the Institute for Theological Studies at St. Margaret's. The Interfaith Center was honored for their demonstrated commitment to inclusion, acceptance, and justice for all through their work to reduce hatred and fear among the world's religions. Other honorees included Deborah Robinson Bell of Better Community Developers, and Bill Waddell, an attorney with Friday, Eldredge and Clark and member of the Arkansas Access to Justice Commission.
The Gathering of Friends is billed as a fundraiser and "friendraiser" to benefit JCA's programming,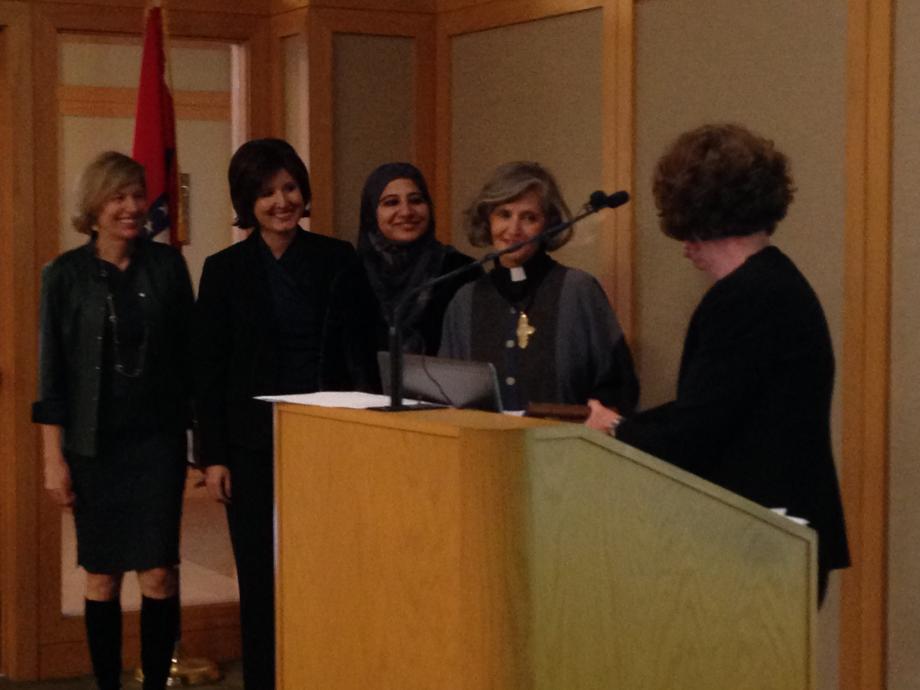 which promotes diversity, inclusion, and mutual respect and understanding among all people. About 150 people were on hand to celebrate the outstanding contributions of these honorees, and to support the work of JCA. Father Joseph H. Biltz, or "Father Joe," as he was more commonly called, was a passionate leader for peace and justice, and his actions often sparked controversy. He worked with an array of people on many issues, including the poor and the elderly, for the repeal of the death penalty and the reduction of nuclear arms. He was chair of the Urban League and a member of the Arkansas Peace Center. His commitment to social justice inspired all who knew him. The Biltz awards have been given by JCA to honor area champions of social change since 1987.
Just Communities of Arkansas is a human relations organization which brings people together to achieve inclusion, equity, and justice for all. Its mission is to build communities where every person is valued, every voice is heard, and every person has a fair chance to succeed. JCA's many youth and community leadership programs, which include Ourtown for Teens, Unitown, Minitown, OurCampus, and the Ourtown Institute for Inclusive Leadership, aim to confront prejudices, challenge assumptions, advance understanding, and build bridges between people. For more information about the mission and work of Just Communities of Arkansas, visit
www.arkansasjustcommunities.org
or contact Development and Marketing Director Kerri Sernel at 501-372-5129.
Read more about our Celebrations:
SUMMA Spring Tournament
Welcoming Cindy Fribourgh
back