Gold at St. Margaret's
by Beth Maze
on April 9, 2015
I visited St. Margaret's Sunday School rooms for children recently. I came expecting a pleasant,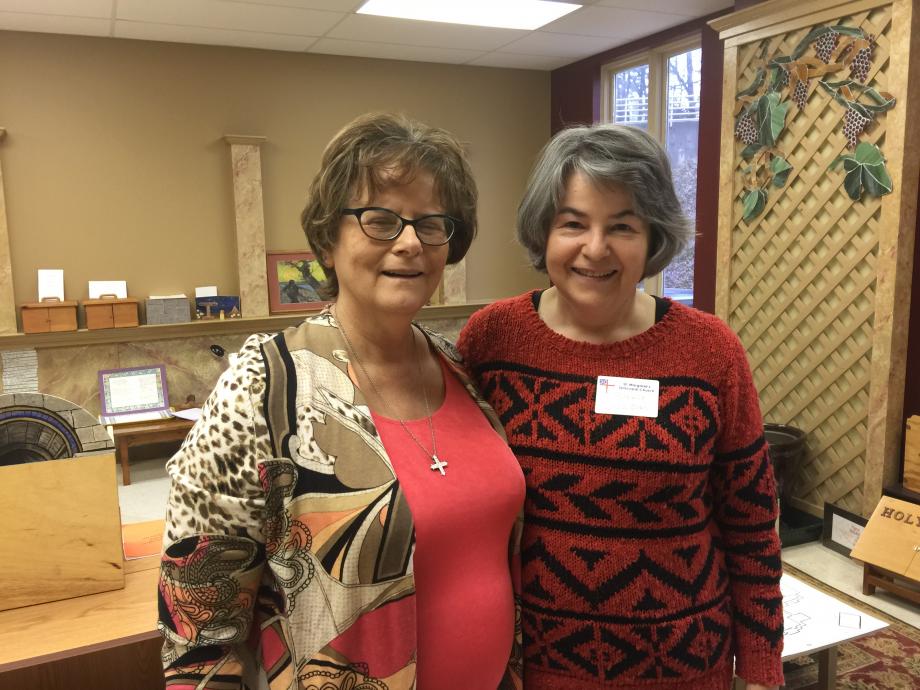 enjoyable time - but I found something much richer, like gold.
A young boy sat working with concentration and diligence on what looked like a puzzle. Cubes of green, red, purple and white lay on the rug. This was a Church Year puzzle showing the seasons we live together: Advent, Christmas, Epiphany, Lent, Easter and Pentecost. Each season has its own color, and this 7 year old knew them. He also knew in which order they came, and just how many Sundays are in each season. There was no guide sheet, save the one in his mind. I watched for 15 minutes as he created a circle with the cubes, then added the arches inside the circle to name each season. He added pointers to mark the great celebrations in the church year: Christmas, Easter, and Pentecost. Then, he sat back on his feet, looked up and smiled. That was the first time he noticed me, such was his concentration.
What does it mean to know by heart the seasons of our shared life - their length, their order, their significance? It's much more than a cool Sunday School lesson - this child knows within that life is a cycle, that there is order and meaning, we read the same scriptures year after year but we hear them anew each time because WE have changed. This was no puzzle. This child knows the rhythm of our shared life - across the Earth.
Catechesis of the Good Shepherd is the curriculum used with the children of St. Margaret's on Sunday mornings, and it is the vehicle the children use to "mine the Holy Bible." It is not entertainment, nor babysitting; it is a room set up to fit the children who will pray there. The room (atrium) is beautiful, and children handle fragile things - like a glass chalice - as they learn that the wine and water are mingled together in this special cup from which we drink, just as we are mingled together with Jesus, and therefore with each other.
The pace of our lives is swift. We've hurried children the whole of their lives. Where is the balance of peace, silence? Our children need silence and peace. We have convinced ourselves - and most of them - that they need to be entertained to be happy at church, when in fact the opposite is true.
We baptize infants in the Episcopal Church, which proves we believe even an infant is capable of relationship with God. They are born connected to God. Our job is to nurture that relationship with "food" worthy of their souls. So how do we do that? How do we nurture our children in their relationship with God?
We sit with them. We read with them. We hold them, carry them, provide for their needs. We pray for them. We pray WITH them. We tell the family stories of our faith until they know those stories as their own. AND we bring them to church where they are known and loved.
Catechesis of the Good Shepherd offers the deepest mysteries of our faith to the youngest children. Why? Because they want to know how to come close to God "all by myself." We learn how to create silence together - the very first posture of prayer.
So what's all the bean pouring, and using a funnel about? Doesn't look much like Sunday School! These short lessons build concentration and focus in our children. And that creates within the child, the place where prayer will live.
Catechesis of the Good Shepherd exists to nurture the relationship between God and the child, and to make accessible the sacraments we share.
That day, the Level 2 teachers presented a topographical map of the city of Jerusalem at the time of Jesus. Together, the children and their teacher dismantled the walls of the city, the Temple, the important places Jesus went after he was arrested in the Garden of Olives. They didn't talk so much about what happened to Jesus that day, they talked about the city that needed walls. They talked about the ancient Passover which draws Jews to Jerusalem even today. Then the teacher invited the children to the art area of the room. "Maybe you can draw or write about what we did together today." What came from the children was astonishing. No poorly copied maps, but art that revealed an astounding understanding of what Jerusalem meant and still means to God's followers.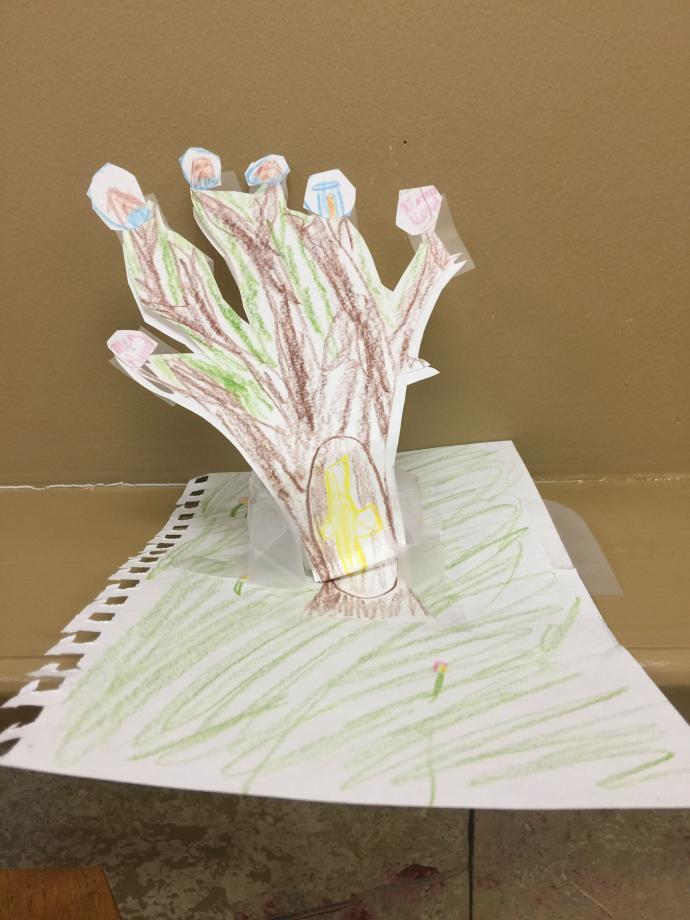 A 3 dimensional tree was one child's work. She made it from paper and tape, and used crayons and colored pencils. Each limb of the tree had a face on it - 6 limbs in all. On the back side of the face was a label: God, Mary, Joseph, Jesus, Mankind, Womankind. And at the bottom of the tree was a hole, like the opening to a tomb. From that hole shone a yellow cross: The Light of the Risen Christ.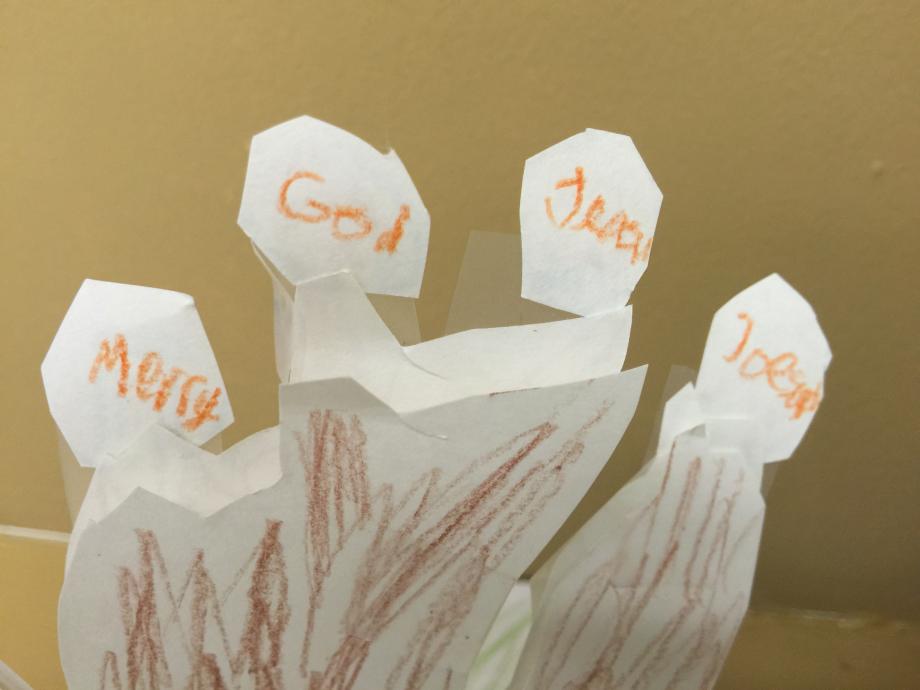 She connected ancient Jerusalem with God - the Temple was there. And she knew what the city meant to obedient Mary and Joseph, who journeyed there for the Passover each year. She knew what Jerusalem AND a tree meant in Jesus' life. From where did her insights come? From a nurtured soul, a loving family, a curious mind, and the presence of God's Spirit within her. She knew that this "tree" she'd drawn - alive and vibrant instead of dead wood used for a cross - sustains mankind and womankind. And she knew that Jesus is risen.
That is gold, my friends. There is gold at St. Margaret's.
Read more about our Celebrations:
Good Food, Good Neighbors
The Power of Forgiveness
back