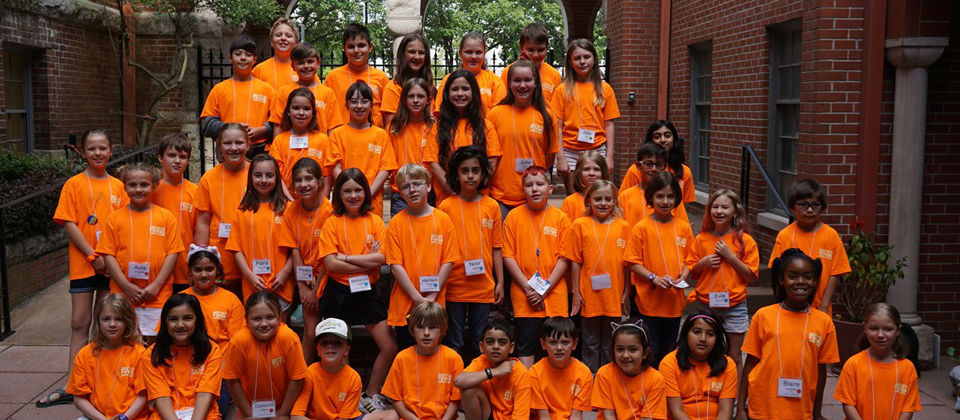 Friendship Camp 2019
by anonymous
on July 3, 2019
The Friendship Camp of Central Arkansas - a program of the Interfaith Center of St. Margaret's - had its best week yet in its
fourth year! This year's theme was "Back to the Future," and it was a week in which 3rd - 6th grade children had the opportunity to learn about the historical contributions made by people of faith (like the electric battery and drip irrigation), and then to imagine ways that they can help create a more hopeful future. While playing games, engaging in science, and learning songs, they also made friends, learned about their own and one another's faith traditions, and built peaceful and cooperative relationships.
The idea for Friendship Camp came out of a St. Margaret's Vestry Retreat one evening at Camp Mitchell, while the group
discussed the possibility of a Vacation Bible School. Many churches offer VBS, but St. Margaret's has a unique gift to offer through our Interfaith Center and the House of Prayer. At the time, the Interfaith Center had already established the Multi-Faith Youth Group, as well as many programs for adults, but we had not yet offered anything for children. What better way to "reduce the fear and hatred among the world's religions" (the mission of the Interfaith Center) than to stop it before it starts?! The Friendship Camp of Central Arkansas was born, and held its first camp at St. Margaret's in 2016. Since then, the camp has changed location each year. This year's camp took place at First United Methodist Church, and it is due to rotate back to St. Margaret's in 2020.
Mark Mulkerin and Krystal Marsh have both participated in an interfaith team to create this camp since its inception,
and now that it is fully established, we look forward to seeing it thrive in the years to come. Stay tuned for opportunities to volunteer to support next year's camp at St. Margaret's!
back