Faithful Stewardship Results in Strong Budget
by Skip Cochran
on January 30, 2014
At this time, I want to thank you for the good news of one the many accomplishments that have taken place in our church home over the past year, in specific the wonderful result of the Stewardship campaign in 2013, which led to celebrating our healthiest budget in 5 years.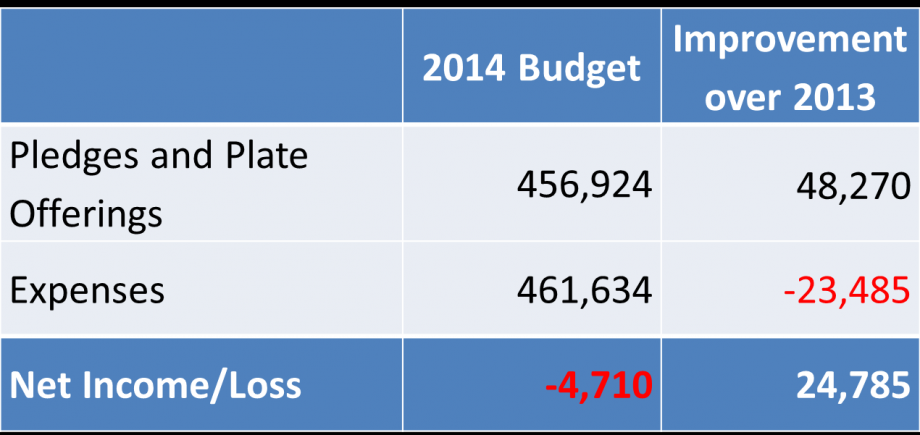 We can look back with gratitude for all those who have given to St. Margaret's and how the Holy Spirit has been ever–present: creating, renewing and transforming as a result. In specific, we acted on our faith through our stewardship campaign which resulted in a vastly improved financial picture for St. Margaret's. Total pledges in 2013 were $392,554 and for 2014, $456,924 has been pledged; average pledge amounts have increased from $3,414 in 2013 to $3,846 for the current year. There have been several results of this and this is reflected in the budget as follows:
St. Margaret's has already been able to pay a substantial amount towards paying on our line-of-credit.
We will be able to continue to fund an expanded presence in Children's Formation and develop and sustain Christian Formation ministers for children.
We will be better able to welcome new members and households to our St. Margaret's family and increase average Sunday attendance.
We will be able to continue to provide financial support to two members of our parish who are pursuing training for ordained ministry.
We will be better able to conduct Outreach programs such as providing for residents of St. Francis House and donating for projects to clothe and/or feed those in our community.
We will be able to thoughtfully make a transition to a new Music Minister
We will be able to deal more easily with any infrastructure issues that might arise.
You will note that many of the above are the prioritized five goal areas for 2014-2015: music, outreach ministries, meaningful relationships, children and youth; reaching new people; based on based on the results of a church-wide assessment, the St. Margaret's November "Visioning Event," and Vestry input.
The reason we can anticipate having much to be thankful for is YOU the congregation, who prayerfully saw the need and made the pledges that you did. As I stated before, little by little, all of the pieces are coming together–part by part, person by person, member by member--for the mission God has given us and the response to the Stewardship campaign was an important part of that.
Thank you for your prayers, participation and financial contributions this year that have enabled St. Margaret's to answer the Spirit's invitations to join hands and hearts and proclaim through our words and deeds that Jesus Christ is Lord.
Read more Celebrations:
New Vestry Members for a New Year
Confirming our Faith
back