EYC Philadelphia Service Trip
by Bennett Tinnermon
on July 28, 2016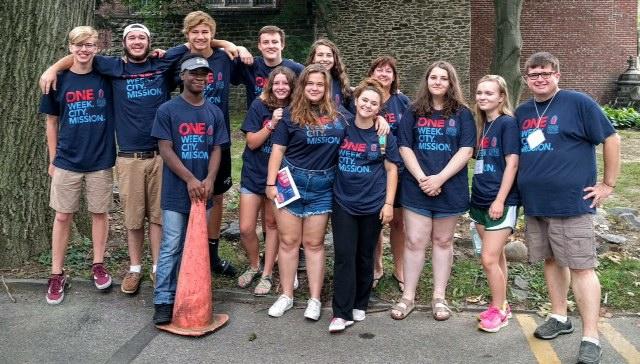 Saturday June 25 through Saturday July 2 Jessie Rayder and I went on a mission trip to Philadelphia along with youth members from across the diocese of Arkansas, Pennsylvania, and New Jersey. Our group of 60 EYC members partnered with the Episcopal Mission Center as we worked at local city camps, gardens, food kitchens, etc. When the groups weren't spread
across the work sites and back at St. Luke's church, youth and adults talked together about their day and what it taught them, played games, and got to know each other as we made new friends. The Arkansas group went on a few separate sight-seeing trips to places like the Liberty Bell, eat at the Reading Terminal Market, and even see a Phillie's baseball game!
This experience was truly amazing. Playing with the kids at the city camps showed me how they look up to the older kids, like us, and just enjoyed spending time with us as we did with them. It was great to teach and learn with them about God. They laughed and smiled along with us, playing games, doing arts and crafts, and talking with them put us all in good moods.The peppy spirit of the kids kept a smile on my face every second I
was around them. Working at food kitchens is something I always enjoy doing. Along with the Arkansas group I worked at Manna food kitchen, packing meals that would be sent to those in need. Their concept that "food is medicine" is inspiring...
check them out here.
Together youth from different places, old and new friends, got the amazing opportunity to grow closer to each other, and God and I, for one, am glad for the experience!
back