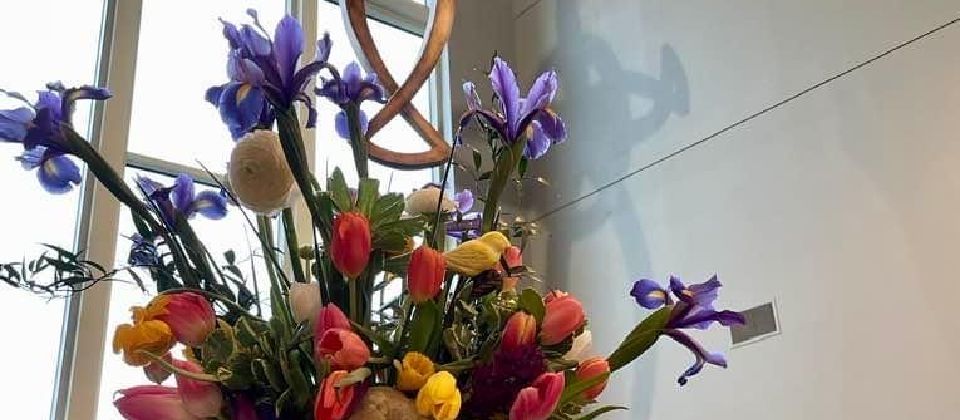 Easter Resurrection
by The Rev. Mary Vano
on May 4, 2022
St. Margaret's is a community of Resurrection. We exist because of the Resurrection of our Lord Jesus Christ nearly two thousand years ago, and we continue to thrive because Christ continues to bring resurrection to our lives and our community even to this day. This year, the story of Easter is being told again as new life springs forth out of the pandemic, and many in our church are returning to worship and ministry.
On Maundy Thursday, when we annually celebrate Jesus' Last Supper with his disciples, we let go of our last pandemic restriction, allowing communicants to sip directly from the chalice if desired. This is a long tradition among Christians, responding to the invitation of Jesus, who blessed a loaf of bread and a cup of wine and said, "Do this in remembrance of me." Some may choose still to intinct or to abstain, but now everyone may participate in the Eucharistic feast in ways that feel comfortable and meaningful to them.
At the Easter Vigil, this year's Paschal candle was lit in loving memory of Jim Burton, and Molly May Logan was baptized.
Our Easter celebrations were full and joyful, with lots of friends and visitors also. The Flower Guild went "all out" with gorgeous arrangements, and parishioners brought flowers for the crosses and cookies for the reception. We were also invited to participate in a new Easter challenge: members were provided with tags and encouraged to take an extra plate of cookies to a friend, neighbor, or acquaintance. It was one more way for us to share the joy of Easter outside the walls of our church building.
The theme of Resurrection continued the following week, when we resumed Sunday school for children and youth for the first time in two years. It has been especially beautiful to see so many smiling, happy children, eager to learn more about the love God!
For those interested in how attendance rates are trending, our Easter attendance was about 90% of what it was in 2019 - our last pre-pandemic Easter. On regular Sundays, we're now seeing about 65-75% of the number of people who attended church in 2019. Prior to Easter our average was closer to 50% of our pre-pandemic attendance. Anecdotally, I can tell you that these numbers are in line with what is happening with Episcopal churches around the country. Your leadership at St. Margaret's is aiming toward a 100% return, and then growth beyond that!
I want to extend my personal thanks to all those who are helping to share the promise of Resurrection throughout our community. There are so many volunteers and staff who are faithfully leading us. Even if the only thing you've done is attend worship, you too are proclaiming the Good News.
Thanks be to God, Alleluia! Alleluia!
back