Confirming our Faith
by Elizabeth Connery
on January 30, 2014
What a great celebration on Sunday, January 12, as Bishop Larry Benfield made his annual visit to St. Margaret's to confirm and receive members of the church! New members Catherine Hawks and Missy and Brian Tinnermon were confirmed in their faith; Wayne Waggoner from St. Mark's was confirmed, and Mathias Brochhausen was received into the Episcopal Church.
We at St. Margaret's are very much aware of what a vibrant community we have, and it's so rewarding when new members feel drawn to and embraced by the Church. Mathias states, "When I came to St. Margaret's I was new to Little Rock, kind of new to the US and only had experienced the spiritual life of an Episcopal congregation from a somewhat outside perspective. Very soon I felt at home. The liturgy which is important to me, the open-mindedness of everyone I spoke to, the friendliness and warmth of the members, the inspiring sermons, it all gave me the feeling that this is the spiritual home I was hoping to find." Missy Tinnermon has discovered that "everyone at St. Margaret's is genuinely there to grow their faith, to connect to God, and to serve Him as well as one another. WE WANT TO BE A PART OF THAT!"
Mathias describes the moment that he was received into the Episcopal Church: "The moment of the reception, when Bishop Benfield held my hands and spoke the prayer, filled me with a great happiness. I was glad for myself to have found a group of people and a place that I feel, spiritually, I belong to. I also felt gratefulness for the fact that I found St. Margaret's and the people there, and that now, by becoming more of a formal member, I would be able to give back what I received from our community in more ways than before. That moment I realized how much I appreciate St. Margaret's…the people surrounding me and how dear many in the congregation have become to me over the last years."
Missy echoed this feeling of belonging, for her entire family. "God brought us to our new home for several reasons: to see our son baptized, to take part in his first communion, to see him grow, thrive, and love EYC, and for us to find answers to all the questions we'd been asking for over a year – leading us to our new Episcopal family and our new church home. God is good."
God is indeed good, and St. Margaret's is grateful for Catherine, Missy, Brian, and Mathias, and all the gifts they bring to bless our community.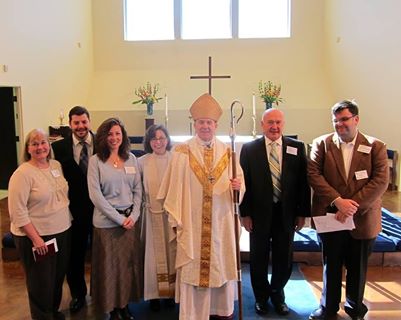 Read more Celebrations:
New Vestry Members for a New Year
Faithful Stewardship Results in Strong Budget
back