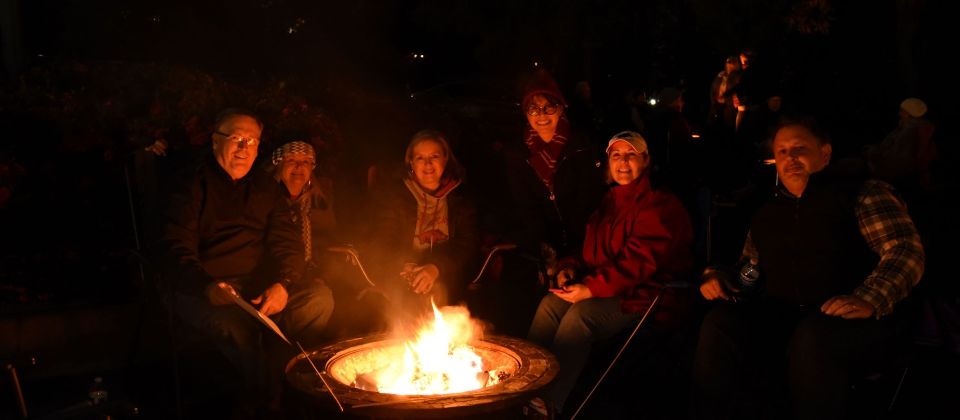 Compline Under the Stars
by The Rev. Mary Vano
on November 30, 2021
St. Margaret's held its first worship service on All Saints' Sunday, 1991 at the Market Street Bargain Cinema. It's hard to say exactly what the founders might have imagined the church would be thirty years later, but I'm guessing it might have included a loving community of faithful people. We certainly are that. They probably hoped for Christians committed to serving others in the world. We are that, too. I think they also dreamed of a church that would introduce the beauty of Episcopal worship to new generations of people. We are definitely accomplishing that as well. One thing they might not have anticipated: a global pandemic!
Our 30th Anniversary celebration required a little creativity to keep everyone safe during the ongoing pandemic. Instead of an indoor party, or a festive banquet, we made it simple and beautiful with
Compline Under the Stars
. The community bundled up on a cool November night, and gathered around fire pits in the parking lot. We roasted marshmallows for "s'mores," enjoyed the company of old friends and new, and prayed compline together.
As the stars shone down upon us, we also pondered the unfailing promises of God in scripture:
After these things the word of the Lord came to Abram in a vision, 'Do not be afraid, Abram, I am your shield; your reward shall be very great.' But Abram said, 'O Lord God, what will you give me, for I continue childless, and the heir of my house is Eliezer of Damascus?' And Abram said, 'You have given me no offspring, and so a slave born in my house is to be my heir.' But the word of the Lord came to him, 'This man shall not be your heir; no one but your very own issue shall be your heir.' He brought him outside and said, 'Look towards heaven and count the stars, if you are able to count them.' Then he said to him, 'So shall your descendants be.' And he believed the Lord; and the Lord reckoned it to him as righteousness.
Genesis 15:1-6
Despite the challenges of our current context, St. Margaret's continues to be the Church God calls us to be, and we trust our future to God's grace.
Compline Under the Stars
was so much fun, people are asking if we can do it every year! As we head into our 31st year of ministry in west Little Rock, perhaps we've begun a beautiful and meaningful new tradition.
back