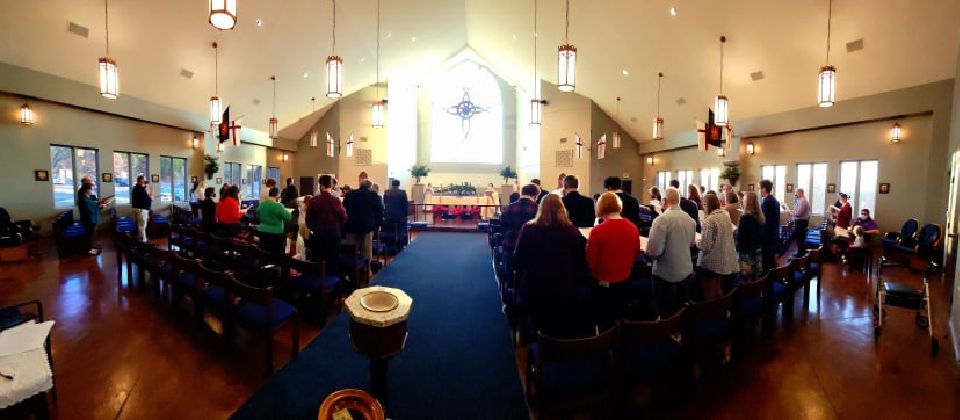 Christmas 2021
by anonymous
on January 12, 2022
Having been unable to gather in-person in December of 2020, we met the Christmas 2021 season with deep gratitude for our community. Our gatherings may have been a bit dampened by the emergence of the Omicron variant, but nevertheless, we
celebrated Good News of the Incarnation with great joy.
Our preparations began mid-December with a new Christmas tree tradition: to refresh the ornaments on our tree, members of the congregation were invited to offer an ornament as a symbol of their individual or family identity. We received a great variety - from subway cars, to giraffes, to hand-knitted wreaths. They remind us of the beauty and diversity of our community. On December 12th, worshippers stayed after the 11:00 service and sang carols while we decorated the tree.
We also continued a tradition born during the pandemic in 2020: Christmas-grams. Members of the congregation donated and chose someone in the congregation to receive a poinsettia. Some chose friends in the congregation, and others asked our rector to choose someone who might especially need this little sign of our love. Ronnie Beggs put on his Santa hat and delivered a little bit of Christmas spirit to about a dozen households.
Then, we ushered in the Christmas season with beautiful celebrations on Christmas Eve and Christmas Day, while worshippers joined us in person and from their homes on YouTube. From the flowers to the music and preaching, it was a glorious time to be together.
Finally, we gave our rector a week of rest, and lay leaders took over for the Sunday after Christmas. A Morning Prayer service was held on December 26 with our Senior Warden, Dr. Absalom Tilley, preaching, and Adam Sullivan, vestry member, as the officiant.
In Christ, God is truly with us, and it was good to celebrate this together again.
back