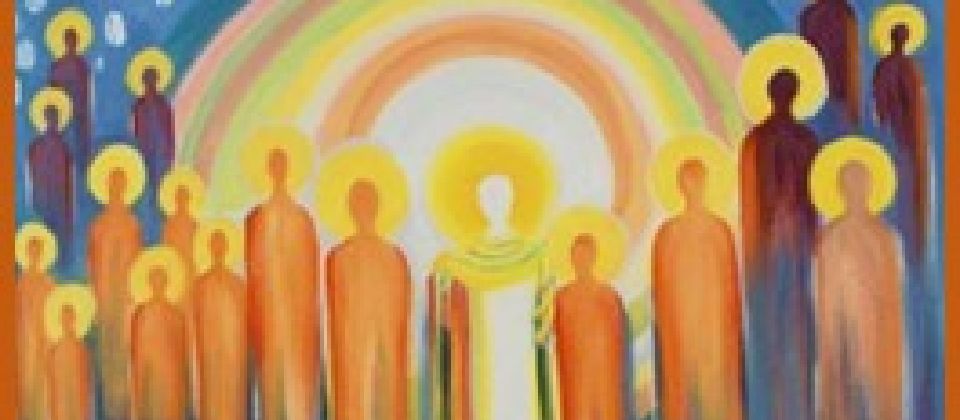 Celebrating all the Saints: Afghan Placement and Assistance Ministry
by Jan Thames
on November 1, 2022
They lived not only in ages past,
there are hundreds of thousands still,
the world is bright with the joyous saints
who love to do Jesus' will.
You can meet them in school, or in lanes, or at sea,
in church, or in trains, or in shops, or a tea,
for the saints of God are just folk like me,
and I mean to be one too.
Hymn #293, Verse 3: "I Sing a Song of the Saints of God"

Illustration by Elizabeth Wang, T-00042-OL, 'All Saints,
Copyright © Radiant Light, www.radiantlight.org.uk

At St. Margaret's we are no stranger to remembering the saints; after all, we are named for one! We will observe All Saints' Day this coming Sunday, November 6th. In conjunction with this observance, we will also be celebrating the one-year anniversary of our Afghan resettlement ministry. Refugee Sunday is relevant to our worship because our faith is relevant to what is going on in our world. And there is a refugee crisis going on in our world; there are currently more people displaced by war, violence, and persecution than at any other time in recorded history.
All refugees are made in God's image, regardless of their place of origin, ethnicity, religious tradition or any other human demarcation. All are loved by a compassionate God. God's desire for them and every other human is that they would flourish. Each man, woman, and child is known by, called and beloved of God. These simple, but profound theological truths compel us to spend time, money, energy, and other available resources to help those who have been marginalized, abused, denied human rights, and deprived of home and citizenship, to help them establish themselves in a place of safety and security where a flourishing future is possible. We who have been given much are called by love to serve those who need our resources and, for a time, need us.
Many of us have sung Lesbia Scott's hymn from childhood. For me, the idea that "the saints of God" are just folk like us and can show up anywhere stuck with me. According to the Episcopal Dictionary of the Church, a saint is defined as "a holy person, a faithful Christian, one who shares life in Christ. The term may also indicate one who has been formally canonized or recognized as a saint by church authority." And as the hymn states, saints are those who love to do Jesus' will; sponsoring refugees is a tangible and immediate way of expressing love for God and love for neighbors. Individually as Christians, and collectively as Christian communities, we put our faith into actions that can change lives, of both refugees and those who sponsor them.
As Christians we are united with all the saints of the Church: those who are scattered around the world and those who are around the corner; those who lived two thousand years ago and those yet to come; and those who are in our midst and those who have gone on to glory. We are all bound together through the same Lord and Savior. We are a holy and catholic church. A community set apart for God, which transcends space, time, and even death itself. We are called to be saints – all of us.
We give thanks to you, Source of All Being, that you hear our prayers on behalf of our refugee brothers and sisters. We thank you that love swallows fear, that in your compassion we learn to walk with those who suffer, that when we give of ourselves, we receive far more, and that when we receive those who stand knocking at our doors, we receive Christ the Beloved One. Amen. By Alyssa Stebbing Trinity Episcopal Church, The Woodlands
back