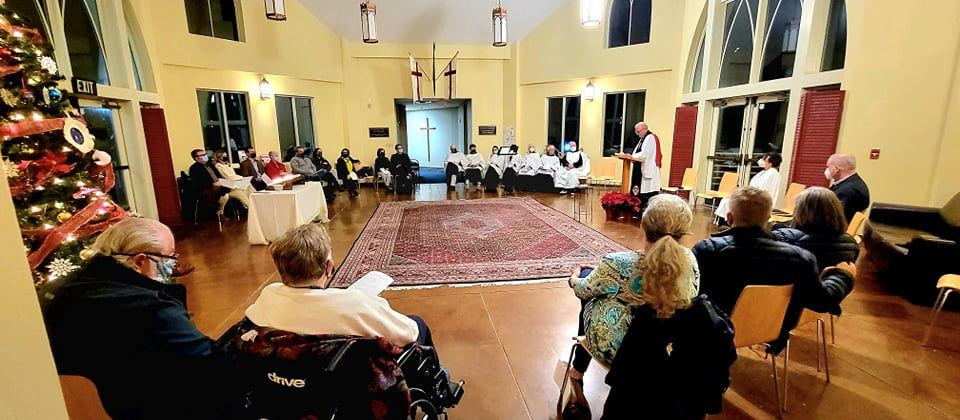 A New Epiphany Tradition
by The Rev. Mary Vano
on January 12, 2022
The Feast of the Epiphany is the celebration of the revelation of Christ to the world, represented by the magi who followed a star from the east to meet the Christ child. It is celebrated on January 6th each year.
For many years, the tradition in Little Rock has been to celebrate the Epiphany at St. Mark's Episcopal Church as one of several convocational services, in which Episcopalians from around the city are invited to gather as one. (St. Margaret's has traditionally hosted a celebration of Independence Day.) This year, the clergy of the Central Convocation have decided to try a new thing. Going forward, we plan to have one annual convocational service, which will truly be a collaborative effort among our parishes. The Principal Feasts of the Church will be observed in every parish. The Principal Feasts include All Saints', Christmas, Epiphany, Easter, Ascension, Pentecost, and Trinity Sunday. Effectively this will add two new celebrations to our traditions at St. Margaret's - the Epiphany and the Ascension, as well as a convocational celebration (on an occasion yet to be determined).
Given the opportunity to create something new for St. Margaret's, we decided to make our celebration of the Epiphany a sung compline service. Compline is a service for the end of the day, and given that Epiphany marks the end of the Christmas season, it was a beautiful way to conclude the season as we contemplated the star that led the wise men from the east. The Welcome Center offers a wonderful acoustical environment for singing, so we took advantage of the space with the Christmas tree in our midst. The founding vicar of St. Margaret's, the Rev. Dr. Chris Keller helped us start this new tradition by offering the sermon.
If you missed the service, you can still watch it on
YouTube here.
We also introduced another tradition for congregants to do at home. We blessed pieces of chalk and invited everyone to offer a prayer of blessing at their homes, using the chalk to mark the lintel: 20 + C + M + B + 22. The numbers on the outside of the formula indicate the year: 2022. C, M, and B are the initials for the traditional names of the magi: Caspar, Melchior, and Balthasar. The letters are also an abbreviation for
Christus Mansionem Benedicat
, a Latin phrase meaning "May Christ bless this dwelling." This is an old Epiphany tradition, but has been largely unfamiliar in the Episcopal Church until recent years.
At the conclusion of our Epiphany service, we took down the Christmas tree and the creche, and prepared for the next new season of light. We're
grateful for the opportunity to begin some new traditions, and we look forward to sharing them in years to come.
back