A Mission Trip to Peru
by Charlotte Alexander
on April 8, 2017
Hello!
As many of y'all know, I was recently very blessed with the opportunity to go on a mission trip to Perú for twelve days. We left on March seventh and returned on the eighteenth of March. To say the least, the mission trip to Perú was life changing and something I will never forget. In August, the team began meeting at 7:15 every Wednesday morning to pray for our trip to Curahuasi Perú. Each Wednesday we prayed that our luggage would arrive in Peru, that we would not be anxious, for safety on the entire trip, for our health in Perú, for our Spanish in Perú, for our program, for the missionaries, for our music, and much more. One thing I learned on this trip is that God is faithful and powerful because He answered every single prayer above and beyond.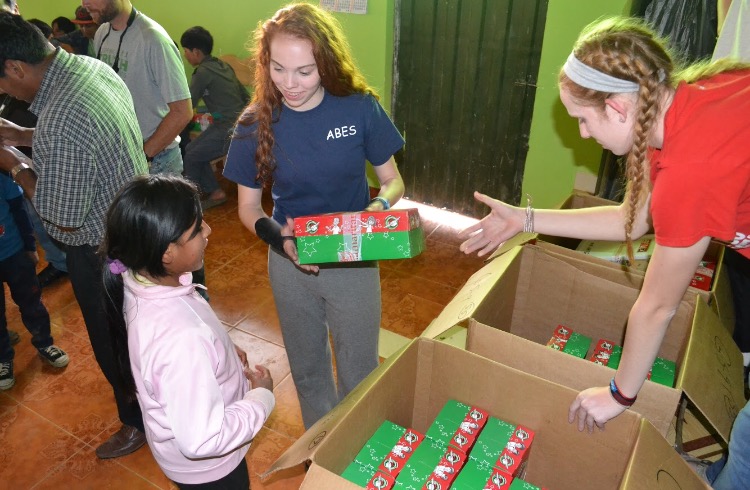 As the trip became closer and closer, I started to worry about my Spanish being a problem in Perú. We do not take translators with us to Perú because we use the Spanish that we have learned in school. We prayed for our Spanish every week but I still doubted myself and God. When I got to Perú, I was amazed at what I was able to say. My Spanish flowed out of my mouth. The Holy Spirit was speaking through me. I was able to talk to the adults, children, and teenagers of Perú about the never-failing love God has for each and every one of us. Even though my Spanish is not perfect the Peruvians were still very excited to speak with me because I was speaking their language and I was not speaking through a translator. The people I met were amazed with me speaking to them and it allowed for me to talk to them about God.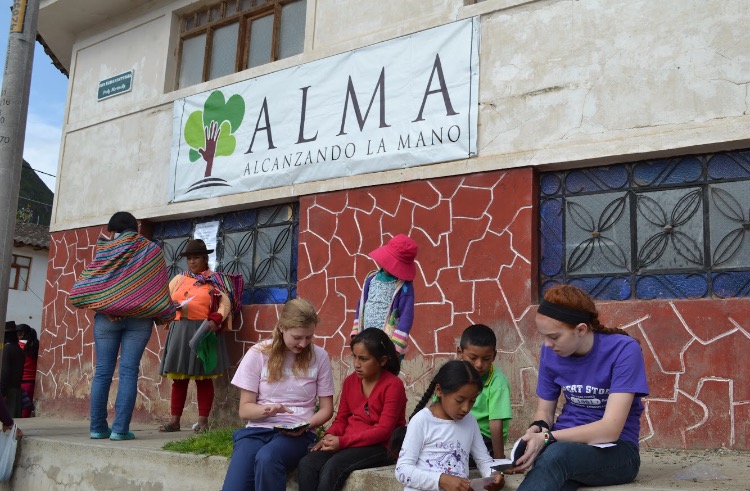 For the past six years, my Spanish teacher and math teacher take a group of nine to twelve students to Perú. We work alongside the Heath family every year. Sean and Crissy Heath moved from North Carolina to Perú six years ago to work as missionaries in Perú. The Heath's have five kids and one more on the way. We work with the missionaries and help them in any way needed. When we were in Perú, we were able to participate in street ministry in Cusco and Curahuasi, work at a local Christian school, share our testimonies with students and adults, help with several children's groups, make crafts with the kids, perform two different skits, sing songs with the children, lead a church service, pray over older women, play games with children in the street, love on the children we met, attend a church service, hike a mountain, volunteer with the Alma organization, help with a back to school backpack program, visit an orphanage, donate paintings to an orphanage, deliver Samaritan's Purse boxes, work at two very small public schools that were located in small villages, interact with kids on the street, share the Gospel, and work with the missionary family. None of this would have been possible without your donation to my trip and your prayers.
One of my favorite things I was able to do in Perú was delivering the Samaritan's purse Christmas boxes. We went to a very small village in the mountains about forty-five minutes away from Curahuasi Perú to deliver the boxes. We went to a beautiful small church on top of a mountain. When all the children arrived, we began the program. My team used our puppets to sing songs with the children to welcome them. The missionary, Sean Heath, later asked the kids if any of them had ever received a gift before in their life. Every single kid answered no or never. When the kids answered 'no" I was shocked because I have grown up very blessed and have received gifts every Christmas, birthday, and even other occasions. Before giving the children their gifts, Sean Heath and a local pastor presented the Gospel to the children. The children learned about the ultimate gift of Christ. After presenting the Gospel, we began handing out the presents. The local pastor called out names and the children would come forward to receive their gift. Then the children would go back to their seat and they all waited so patiently to open their gifts. After we passed out all the boxes to the children we were able to sit down with them while they opened their gifts. The smiles on the children's faces were unbelievable. They were so thankful for each and every gift inside the box. When we first got there, I was very excited to be able to bless the children of this area. I thought that I was just going to bless the children but in reality, they blessed me. God showed me all that I have in my life to be thankful for. I am beyond blessed in many ways and after this trip I had a new appreciation for everything that God has blessed me with.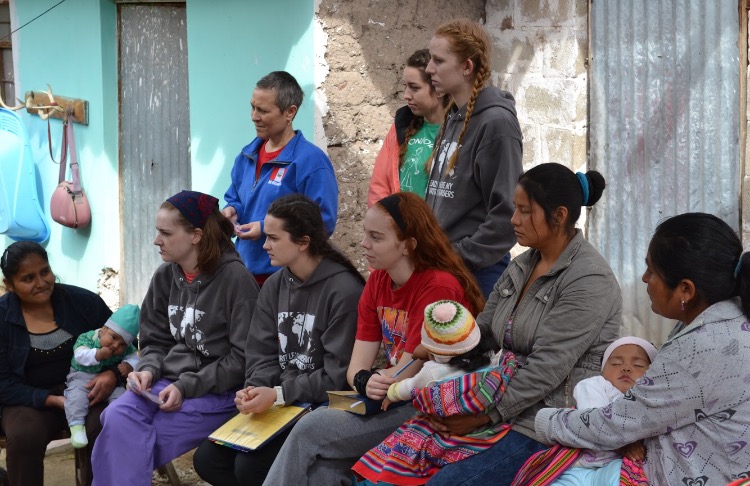 One day we went to a school that was about thirty minutes away from Curahuasi. It was a two-room school in a village in the mountains. The classrooms had kids of all ages. The rest of my team and I were able to perform our skit, sing songs with puppets, tell a Bible story, and make a craft with the children at the school. Our team broke off into groups of two and helped the students make their crafts. Megan and I were able to talk to three kids who were siblings. Their names were Celiña, María Christina, and Manual. They did not talk much and they barely smiled. Megan and I were confused and wondering how to cheer them up. We kept talking to them and helping them with the craft. Later we got to take the kids outside and play with them. We played games with blow up beach balls and the children's faces lit up. They were laughing and running around. We all had an amazing time. Later that evening, Sean Heath told Megan and I that those three kids we were with earlier that day had no parents. The kid's parents had left them about two years ago and they left oldest daughter to raise the other kids. The oldest daughter, Celiña, is only eight years old. After I learned about the kids having to raise themselves my heart was broken for those kids. God showed me that I need to be more thankful for the family He has given me.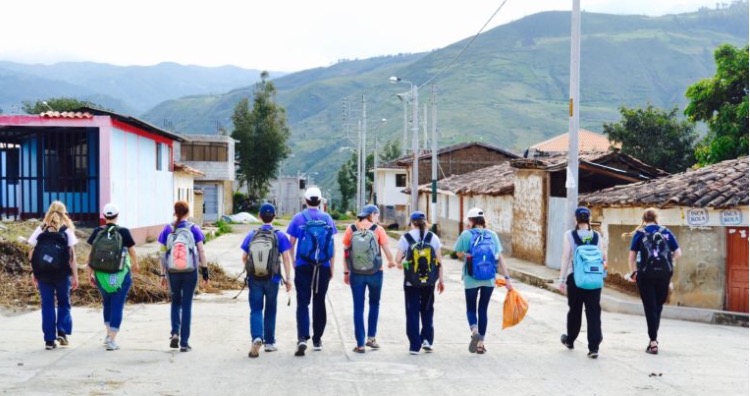 One afternoon we decided to go to street ministry in Curahuasi. In Perú, the children just hang out in the street. Street ministry is where we just go out and play with the kids we see. Curahuasi is a very small town so we ran into the same kids several times in the ten days we were there. Many of us were hoping that we would be able to see kids that we made relationships with earlier in the week. We had lots of different games to play and songs to sing. Once we start playing with a couple kids all the other kids come running out of their houses to play with us. At one point that afternoon I was sitting with a younger girl. I was able to talk to her about Jesus Christ. I asked her if she knew who Jesus Christ was and she told me that she did not. She had never heard of Jesus Christ. She did not know what heaven or sin was. I was very excited because I was able to share the Good News of Jesus Christ with her. She was extremely interested in everything that I had to say. I explained the Gospel to her four or five times because she said she did not quite understand it but she wanted to hear it again. After the last time I explained it, I was able to pray with her and give her a Spanish New Testament and a bookmark that had some important Bible verses on it in Spanish. After sharing with that young girl, I could tell that seeds were planted.
The trip to Perú was eye opening. I experienced many things that were really hard and most people have never seen anything like it, but it allowed for me to grow spiritually. Here in the United States we are so blessed. I personally take many things for granted, even the little things like clean water. God taught me many things when I was in Perú. I came home with a greater appreciation for my family, friends, church, school, and life in general. Now I am very thankful for the little things in life. I learned what it really means to count your blessings. I always knew that God has blessed me in many ways but after my trip I realized that I needed to be more thankful for everything that He has done for me. I would like to thank each of you for praying for my trip to Perú. It was an amazing experience that I will never forget and God taught me so much. I ask that you join me and continue to pray for everyone that we were able to talk to in Perú. Once again, I cannot thank you enough for your support and for sharing in my experience. To God be all the glory!
With love,
Charlotte Alexander
Ephesians 3:17-21 "So that Christ may dwell in your hearts through faith. And I pray that you, being rooted and established in love, may have power together with all the Lord's holy people, to grasp how wide and long and high and deep the love of Christ, and to know this love that surpasses knowledge- that you may be filled to the measure of all the fullness of God. Now to him who is able to do immeasurably more than all we ask or imagine, according to power that is at work within us, to him be the glory in the church and in Christ Jesus throughout all generations, for ever and ever!"
For more information about the Heath family:
www.rootedingraceandlove.org
For more information about Samaritan's purse "Operation Christmas Child":
www.samaritanspurse.org
back