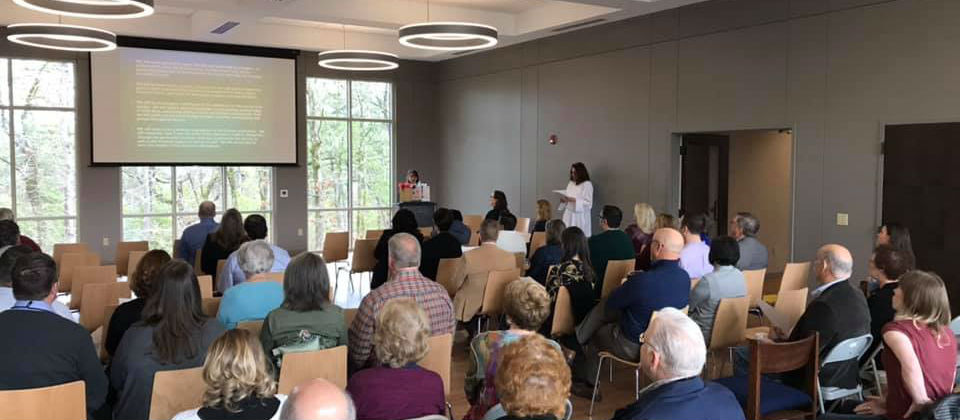 2020 Annual Parish Meeting
by anonymous
on January 30, 2020
Our first Annual Meeting in the new Parish Hall took place on Sunday, January 26th. In case you missed it, here are a few highlights:
Senior Warden Mark Magie, Secretary John Adams, and Leah Dalton all completed their 3 year terms on the vestry. Each one of them contributed faithfully during their time on the vestry and we are grateful!
We elected Boyd Hutchins, Anna Morshedi, and Adam Sullivan to serve on the vestry. These are three members who have already been active leaders in the community, and we're thankful that they have stepped up to serve in this way.
Laura McKinney has been appointed by the rector to serve as the 2020 Senior Warden. The nine members of the vestry now include: Laura McKinney, Ken Castleberry, Cheryl Crutcher, Shay Fortune, Boyd Hutchins, Krystal Marsh, Anna Morshedi, Adam Sullivan, and Absalom Tilley. Dwight Cowan will continue to serve another year as our Parish Treasurer.
Financially, St. Margaret's ended 2019 in the black, and we have a balanced budget for 2020. This is a great shared accomplishment - we're able to do this because almost every member of St. Margaret's contributes generously according to their ability. We thank you!
Our two new events this year - "A Wing and A Prayer" and "RibFest" were both a great success. Both will be repeated in the coming year.
We welcomed 19 new members in 2019. Mark Magie asks us to shoot for at least 20 in 2020!
We heard special reports from both the Arkansas House of Prayer and the Interfaith Center. These ministries are doing great work in our community. Sister Deborah Troillet described the House of Prayer as the "introverted" sideand the Interfaith Center as the "extraverted" side of our interfaith outreach in the community. Read the Annual Report to learn more about the important work they are doing.
We also heard several other reports on the good work that is happening at St. Margaret's. To learn more about all of these good things, please do read the Annual Report.
In his final remarks as Senior Warden, Mark Magie recalled the Rev. Mary Vano's
Christmas Eve sermon
, in which she talked about her childhood
aspirations to be "Wonder Woman." In recognition of her special status as a "WonderWoman" for St. Margaret's, Mark provided Mary with the complete uniform - t-shirt, lasso, gauntlets, and tiara! Mary reminds us that everything she does is with God's help, and with the support of our entire community. 2019 was a great year! Thanks to all of you for your ongoing love, generosity, and support!
back