United Thank Offering (UTO) is a ministry of The Episcopal Church for the mission of the whole church. Through United Thank Offering, men, women, and children nurture the habit of giving daily thanks to God. These prayers of thanksgiving start when we recognize and name our many daily blessings. Those who participate in UTO discover that thankfulness leads to generosity.

Through the United Thank Offering, millions of dollars are distributed every year to support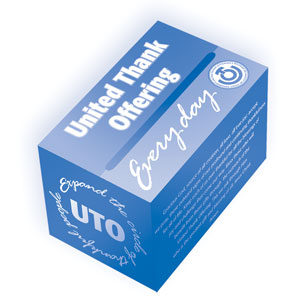 mission projects and ministries throughout the Episcopal Church.

Everyone can participate in the United Thank Offering. Simply pick up one of the blue boxes at church, set it up at home, and remember to make a small offering every time you give thanks. At our next ingathering (every year in October), bring your box to church, and share your gifts with the world!