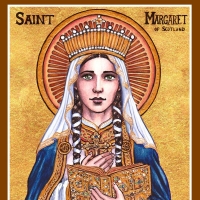 Why is Mary going on Sabbatical?
by St. Maggie | April 13, 2017
Dear Maggie,
Why is Mary going on sabbatical? What will she do while she is away?
Thanks,
Curious
Dear Curious,
The Rev. Mary Vano's sabbatical is just around the corner and I know that more than just you are curious! I'd include meself in that lot so I thought I'd just go ahead and ask Mary herself a few questions to fill us all in.
What is a sabbatical and why are you taking one?
A sabbatical is a season of rest and renewal. It is common practice among clergy to take a sabbatical every 5-7 years as a way to set aside time for spiritual growth. I have been ordained and working as a priest for nearly 14 years – 6 years at St. Margaret's, and this is my first opportunity to take a full sabbatical. I plan and hope to be doing this ministry for many years to come, so it is important to me to be healthy and grounded in God's Spirit so that I may do this work to the best of my ability.
What will you do on your sabbatical?
The principal focus of the sabbatical is to practice seeing the holy in my everyday life. I'm really looking forward to spending lots of quality time with my family. The highlight of the sabbatical will be a trip to Europe for all four of us. But, I will also spend time on my own… I have two quiet retreats planned at the Hesychia House of Prayer near Subiaco. I'll be continuing my photography class, and also taking courses on art and the Italian Renaissance. Late in the summer, Stephen and I are planning a few days in San Antonio, where we took our honeymoon 18 years ago.
Where are you going?
In June, Stephen, Drew, Matthew and I will have a three-week tour of Europe. We'll start in London for five days, then take the chunnel to Paris for another 5 days, and end the trip in Northern Italy, with stays in Venice, Florence, and Rome. In each of those cities, there's a famous "Holy Family" painting that will be a kind of touchstone – reminding us of the purpose of our journey. We plan to explore the churches and museums, and have a lot of fun being tourists in these beautiful cities.
What do you most look forward to on your sabbatical?
It's hard to choose just one thing! Rome will be a special visit… there, we'll be staying with one of my seminary classmates and close friends, who is the rector of St. Paul's within the Walls in Rome. It will be fun to experience Rome from the perspective of a true resident of the city. Of course, I'm also pretty excited about the Harry Potter tour in London!
How do you think this time away will strengthen your work at St. Margaret's?
The photography courses that I've already begun are beginning to reveal to me what I hope to gain – a new perspective. This will be strengthened in the silent retreats, in my study of art, in the exploration of new cities, and especially in the devoted time with my beloved family. I can't say exactly how I will grow… I don't know exactly what lessons I will learn, but I do know that by taking this intentional time my spirit will be nourished in a way that will inspire my preaching, give me insight for God's work among us, and renew the love that I am called to share at St. Margaret's.
Where do you hope to have the most fun?
Now that Ronnie Beggs has taught me to use the Segway, I think I'm ready for a Segway tour through the streets of Paris!
What do you think your greatest challenge will be?
I think the two quiet retreats will be a challenge. They are both planned to be solitary retreats – except for dinner with the nuns – and I have never done anything quite like that. The challenge will be to be truly silent, and to accept whatever God will bring to me in that silence.
How can we keep up with what you're doing?
All of you are welcome to "friend me" on Facebook or follow me on Instagram. I plan to be posting pictures as I seek to see the holy through this experience.
How can we best support you while you're away?
Please do pray for me and for my family. And, please be a support to one another. By coming together to be the Church – to continue Bringing the Good News – you give me the freedom to be absent for a little while. Thank you!!