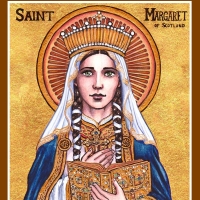 Why is Jesus named Jesus?
by St. Maggie | January 4, 2017
Dear Maggie,
Why was Christ named Jesus? What is the significance of the name?
Thanks,
Nominally Noodling
Dear Nominally Noodling,
Thank ye for yer question. We use a lot of names and titles for the son of God but rarely do we take the time to stop and wonder what they mean. Since we just celebrated the "Feast of the Holy Name" on January 1
st
this is a fine time to reflect on why Jesus was called Jesus.
First off we need to know that Jesus wasn't known as "Jesus" to his friends and family. If you went around Galilee at the height of Christ's life asking for Jesus you would probably get a lot blank stares. If you instead asked for Yeshua you might get pointed in the right direction. Jesus is a translation of a translation of the Hebrew name Yeshua, the name we know as Joshua. The angel Gabriel told Joseph to name the child in Mary's womb Yeshua—which would have automatically registered with Jewish readers as a name that means "God saves" or "deliverer."
When the Hebrew and Aramaic was transliterated to Greek (the language of the New Testament) then Joshua became Ἰησοῦς (Iēsous). This was later transliterated into the Latin Iesvs. Through many a twist and turn the name Jesus didn't come around until the 17
th
century. Even today, Jesus is just one of the many versions of the name given for God made human. In me own Scottish we call the Son of God, Ìosa.
The many iterations of the name of this deliverer sent by God reflect our need, in each of our tongues, to say this name in a way we can understand and bring God near, just as God came near to us in Christ. But we must also remember that in the roots of our name Jesus is a name that has great significance for the salvation history of God's work in the world. Just as Joshua in the book that bears his name led the people of God into the promise land, so this man we call Jesus leads us into a new life.
I hope that helps yer noodling!
God's peace be with ya,
Maggie