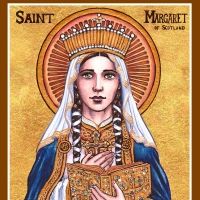 What is the Sacrament of Reconciliation or Confession?
by St. Maggie | February 28, 2017
Dear Maggie,

What is the Sacrament of Reconciliation or Confession?

Thanks,
Confessionally Confused
Dear Confused,
I don't know about you, but though they call me a Saint, I know I'm just as much a sinner. "All have sinned and fallen short of the glory of God," as Saint Paul tells us. The difference, often, between a sinner and a saint is our willingness to admit that we're sinners and confess those sins to God.
The problem with sin is that it separates us from God and from one another. Over time they can create barriers and obstacles that keep us from moving deeper in our relationships. It's for this reason that the church offers the Sacrament of Reconciliation. It is a liturgy through which you confess your sins to God in the presence of a priest and the priest is there to both journey with you and to help you hear God's forgiveness.
Confession requires reflection and preparation in order to enjoy its full value and grace. It is helpful to spend several days or even weeks reflecting over your life and the sins that have piled up to block your relationships. Brother Curtis Almquist of the Society of Saint John the Evangelist, an Episcopal monastic order, offers a wonderful guide for those preparing for confession that can be found here:
"Reconciliation: Preparing for the Sacrament."
Father Martin L. Smith has written a beautiful book on preparing for the sacrament for those who want to go even deeper in their preparation and practice of this spiritual discipline:
Reconciliation: Preparing for Confession in the Episcopal Church
The wonderful thing about confession is that it is also one of those rare places where you can share anything and it will be kept absolutely between you, the priest, and God. The only exception to this, in some cases, is if you share something that means an immediate threat to you or someone else.
Many people on their first confession offer up all of the sins they can think of from the whole course of their life. When you get thinking about it, it can be amazing how many sins you remember and how those old sins have continued to block your way to God. There is nothing wrong with coming to confession with a written list of your sins if that is helpful for you. Sometimes this process of reflection can even help you discern aspects of your life that are sinful but you hadn't even realized it. Many sins like ambition, greed, or sloth can be quiet subtle in how they show up in our lives.
The heart of confession comes at the end. After you have told God your sins and offered forgiveness to those who have sinned against you, the priest concludes the liturgy with these words:
"Now there is rejoicing in heaven; for you were lost, and are found, you were dead, and are now alive in Christ Jesus our Lord. Go in peace. The Lord has put away all your sins." (BCP, 451).
After that you can never again bring up a sin that has already been confessed. God has erased that block from your life and you can now move freely toward the full embrace of God's grace.
I hope that that helps you Confused and I hope that you will try this beautiful and profound sacrament. Lent is a wonderful time to experience this grace in your life.
Peace be with ya,
St. Maggie.