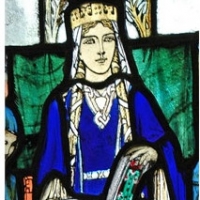 What is St. Nicholas day?
by St. Maggie | November 29, 2016
Dear Maggie,

What is St. Nicholas day? How can we celebrate it?

Thanks,
Wondering in West Little Rock

Dear Wondering,
Ah, me dear friend St. Nick! He's one of my favorite fellows in the Communion of the Saints, a good man who, like meself, gave gifts to the poor. December 6 is set aside as the Feast of St. Nicholas to celebrate this man who was the original Santa Claus. Many families "have Santa" on this date, reserving Christmas Day to celebrate and focus on remembering the birth of Christ. We know that Nicholas was a bishop in Myra, Asia Minor around 325 A.D. Legend says that he was the ultimate gift-giver, tossing bags of gold through the windows of the poor and into their stockings. He was very secretive about this gift giving so no one is for sure where and how he gave his gifts.
Today, ole St. Nick lives out of the hearts of those who know him and understand his ways. Whenever we give gifts, especially to the poor, we are honoring his memory and the example he set for we Jesus people.
There are many traditions associated with St. Nicholas that invite us to live into his spirit. Children might like to set out shoes to be filled with cookies, fruits or treats in the night while they sleep. Or perhaps a stocking on the hearth or a plate on the table to be filled in secret. Family members may choose to be a "little St. Nicholas," looking for opportunities to do secret good deeds or kindnesses for each other. A family might choose together to give in secret, perhaps a food donation to a needy family, literally leaving a basket on a doorstep, ringing the doorbell and hiding. Many families bake St. Nicholas cookies to deliver in secret with a note.
The cookies can be any style, but the tradition is to make "speculatius" or "image" cookies, in the image of St. Nicholas. I've put me favorite recipe for them below!
St. Nicholas visit's St. Margaret's Church every year. This year, look for him on
Sunday, December 4, in the upstairs hallway around 10:45
. Everyone looks forward to this annual Sunday morning visit and to receiving chocolate coins from our mysterious visitor.
I hope that helps answer yer question!
God's blessings be with ya,
Maggie
St. Nicholas "Speculatius" Cookies
The recipe is to mix in order:
1 cup shortening or lard
2 cups white sugar
4 eggs whole
¾ tsp. salt
2 tsp. baking powder
4 cups flour
4 tsp. cinnamon
2 tsp. allspice
2 tsp. nutmeg
2 tsp. ginger
2 tsp. cloves
Turn out onto a floured board. Knead in about one cup additional flour or as much as you need until dough is no longer sticky and is easy to handle.
Put into a plastic bag and refrigerate until chilled and stiff. Then you are ready to roll out and cut the cookies. Cut off a manageable piece and keep the rest cool until you are ready for more.
For many little cut-out shapes, roll out the dough thinly. Thin cookies are tastiest.
For the larger, decorated St. Nicholas cookies, roll the dough to about ¼ inch thickness. Cut out cookie around a paper pattern or use bishop-shaped cutter. Place on a greased baking sheet. Use scrappy bits of dough to decorate your Nicholas. For a beard, press a little dough through a sieve or garlic press. Use little balls of dough for eyes or buttons. Get creative.
Bake at 350 degrees until golden-brown. Will keep forever in the freezer or several weeks in the pantry.
Deliver cookies in secret to friends.