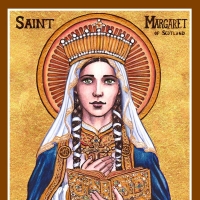 What is Catechesis of the Good Shepherd?
by St. Maggie | May 3, 2017
Dear Maggie,
What is Catechesis of the Good Shepherd?
Thanks,
Catechetically Confused
Dear Confused,
Oh me, Catechesis is among my favorite subjects and I would love nothing more than to introduce you to the wonderful program we have for teaching our children the ways of our faith and worship life. Catechesis comes from the Greek word for "instruction by word of mouth." In the church it refers to the education new believers receive in the basics of faith. If ye look in the back of yer prayer book you will find a catechism which gives a short summary of basic understanding of God, the bible, etc.
Catechesis of the Good Shepherd is a form of teaching that is directed at children ages 3-12. It was developed by two Catholic laywomen in Italy in the 1950s. One was a biblical scholar and the other was an educator trained in the methods of Maria Montessori. Using the hands on methods of Montessori education they developed a way to teach children about our worship and faith life that would involve them in rituals, stories, and prayers. Space is also provided for children to engage in meaningful play with holy objects—acting out many of the patterns of worship that are practiced in our church worship.
Story telling is also a big part of Catechesis of the Good Shepherd. Biblical stories are told to the children using simple, tactile objects that engage the children and spark their imaginations.
On May 7
th
we will be reading about how Jesus is our Good Shepherd and we'll be offering special thanks for those teachers who help make this program available at St. Margaret's. If ya come to the 9 a.m. service you'll see one of our teachers presenting the Gospel lesson using Montessori methods.
I hope that helps, Confused!
Peace be with ya,
St. Maggie